Citrus goodness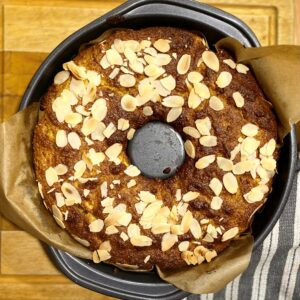 This easy, gluten-free recipe combines seasonal citrus with eggs and almonds to make a moist cake that gets better after day one.
Ingredients:
2 large oranges, Navels are best

5 eggs

125ml honey or 3/4 cup caster sugar

1 tsp vanilla paste

2 & 1/4 cups almond meal

1 tsp gluten-free baking powder

slivered almonds for decorating
Method:
Place oranges in a saucepan with enough water to just cover them. Bring to the boil and simmer for 2 hours. Drain and allow to cool completely.
Preheat your oven to 170C and grease and line a 20cm cake tin.
Place cooked oranges, eggs, honey (or sugar) and vanilla in a food processor and blend until combined.
Add almond meal and baking powder and stir until you have a smooth batter.
Pour into the tin and top with a scattering of slivered almonds.
Cook for approx 50 mins to 1 hour. Allow cake to cool in the tin for 10 minutes before turning out.
Enjoy warm with a dollop of cream, yoghurt, or ice cream. Flavour and crumb improves after day one.