Pretty as a picture and tasty too!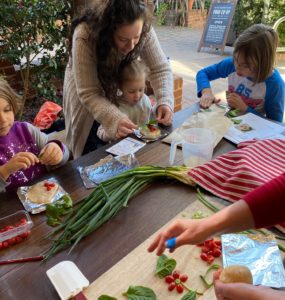 Ingredients:
500g strong white flour (bread flour)
1 tsp dried yeast
pinch salt
1/2 tbsp raw sugar
300ml lukewarm water
extra virgin olive oil to drizzle
a few cherry/grape tomatoes
a few spring onions
1 cup baby spinach
Makes 8 portions – prep 20 minutes + prove 50 minutes + bake 15 minutes
Method:
Dissolve yeast and sugar in the water and let it sit for 3-5 minutes.
Mix flour and salt. Pour some of the liquid into the flour mix and mix it with a fork. Add the rest of the liquid and mix it until it all comes together. Then, knead it for about 5 minutes, until it turns into a smooth, springy, soft dough. Oil a bowl, place the ball of dough in it. Cover with a clean tea towel and let it rest in a warm place for 30 minutes. Hopefully, it will double its size!
Preheat the oven to 220'C and prep the toppings.
After proving, pound the dough down and cut it into 8 portions. With your fingers, flatten each portion down, spreading it thin to about 5 mm, onto a baking tray. Create your Garden picture with the vegetables you want. Cover it with a tea towel and let it rest in a warm place for 20 minutes. Drizzle heaps of olive oil and bake for 15 minutes.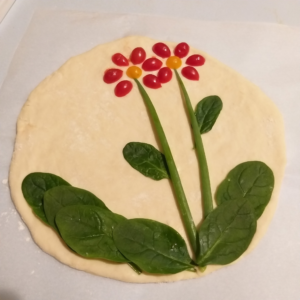 NUTRITION per portion
Fibre: 10-20% daily recommendation*
Iodine: 1/3 daily recommendation*
Folate: 100% daily recommendation*
Good fats
*Recommendations per day for young children1, 2
References
1. www.eatforhealth.gov.au/guidelines/australian-guide-healthy-eating
2. www.nrv.gov.au/nutrient
Recipe by Fern Rodrigues of Eat Play Learn Nutrition
Join Fern at the Co-op on the third Wednesday of the month for a kids cooking workshop from 11am – 1pm.