Afternoon delight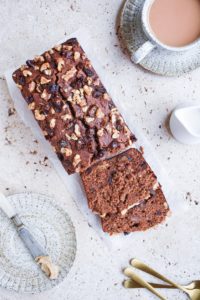 "This loaf is high in protein and healthy fat from the almond meal, walnuts and eggs and only uses dates and a tiny bit of honey for sweetness. This loaf is delicious on its own or topped with organic butter/nut butter for a healthy snack or dessert and it goes perfectly with a cup of chai tea!" Krystle Manning, Of Oat & Earth
Ingredients:
1 cup filtered water
1 heaped tbsp chai tea
1 cup dried dates, roughly chopped
1 cup brown rice flour
1 cup almond meal
¼ cup carob powder
pinch of sea salt
1 tsp baking powder
2 free-range eggs
¼ cup coconut oil, melted
2 tbsp raw honey
1 tbsp apple cider vinegar
1 cup walnuts, roughly chopped
Method:
Preheat oven to 180 degrees C and line a loaf tin with baking paper. Brew chai tea & allow to infuse for 5 minutes.
Roughly chop the dates. Strain tea and place in a pan with chopped dates to soak for 10-15 minutes. Toast walnuts on a small baking tray (about 5-10 minutes). Add dry ingredients to a large mixing bowl: almond meal, brown rice flour, sea salt, carob powder and baking powder.
In a separate, smaller bowl, whisk eggs, coconut oil, honey and apple cider vinegar. Add to dry mixture and stir to combine.
Add soaked dates and toasted walnuts. Stir again. Pour into a lined loaf tin and top with a few extra chopped dates and walnuts.
Bake for 45 minutes or until it bounces back when pressed in the centre. Cover with foil in the last 15 minutes or so if it is browning too much on top. Remove from the oven and allow to cool in the tin for 15 minutes before slicing, buttering and devouring.