Versatile and very filling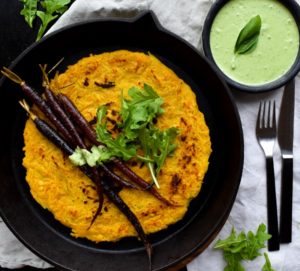 "These savoury pancakes are perfect for breakfast, lunch or dinner! It's a great way to sneak in some vegetables and the chickpea flour is high in protein, keeping you full for hours. If you don't have baby carrots, you could swap them for mushrooms fried with garlic and thyme or cauliflower roasted with cinnamon, ginger and cumin." Krystle Manning, Of Oat & Earth
Ingredients:
Pumpkin & Chickpea Pancakes:
120g (1 heaped cup) chickpea flour
200ml rice milk/almond milk (unsweetened)
2 tbsp olive oil
200g (2 cups) grated pumpkin
Caramelised Carrots:
1 tbsp olive oil
2 tbsp balsamic vinegar
1 tbsp raw honey/maple syrup
1 bunch of baby carrots
Basil Yoghurt Sauce:
½ cup basil leaves
½ cup natural or coconut yoghurt
1 heaped tsp raw honey/maple syrup
2 spring onions
½ lemon
½ tsp apple cider vinegar
1 tbsp olive oil
Method:
For the carrots: Preheat oven to 200 degrees C and line a tray with baking paper. Place olive oil, balsamic vinegar and honey into a small bowl with some salt and pepper and whisk to combine. Lay the carrots on a baking tray and pour over the balsamic mixture, ensuring the carrots are well coated. Roast for approximately 20 minutes.
For the pancakes: Sift chickpea flour into a medium sized bowl and add some sea salt and black pepper. Add rice milk/almond milk and olive oil and whisk to combine. Peel and grate pumpkin and add to the pancake mixture stirring to combine. Heat a large frying pan over high heat (I use a cast iron pan with baking paper in the bottom of the pan to stop the pancake from sticking. If you have a non-stick pan just use some oil). Add half the batter to the pan, spreading into an even pancake. Allow to cook for 4-5 minutes or until the pancake becomes golden brown and crispy underneath. Flip the pancake gently. Cook on the other side for another 4-5 minutes. Repeat with the second half of the mixture.
For the basil sauce: Place all ingredients (except olive oil) into a blender and process until smooth. Slowly pour in the olive oil with the motor still running until all oil is well combined with the sauce.
Pick up this free recipe card and collect all six in store now.
Recipe, photography & styling Krystle Manning, Of Oat & Earth