Hey pesto!
This recipe isn't just super healthy – it's also super delicious!! No one will know your secret ingredient here so you can smirk to yourself as your family wolfs down this delicious pasta meal.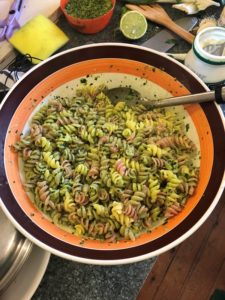 Ingredients:
1 bunch of kale stems removed and blanched
small bunch of parsley – stems removed
2 garlic cloves
¼ cup pine nuts or walnuts
2/3 cup extra virgin olive oil
½ cup grated pecorino or parmesan cheese
1 tbsp lemon zest
pepper and salt to season
Method:
Add the garlic, cheese and nuts to your blender and pulse till chopped fine. Add blanched kale and pulse again. Drizzle in olive oil and add lemon zest and mix well. Season with salt and pepper. Stir into hot pasta.
Green dinosaur smoothie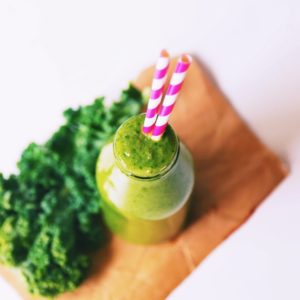 A delicious way to increase your intake of GREEN VEGETABLES. These power packed drinks are concentrated nutrition (calcium, protein, iron, chlorophyll plus a host of vitamins) in an "easy to absorb" form – try one and feel your energy levels rise – almost INSTANTLY! Create your own delicious combinations – the possibilities are endless – the most delicious smoothies tend to be 60% fruit to 40% greens with enough water to make it smooth and easy to drink. As you get used to them you can increase the greens and lessen the fruit – but the real key to these is to keep it YUMMY. A note for those with thyroid issues, kale and all cruciferous vegetables are high in goiterogens, which can create thyroid disturbances, so these vegetables are better cooked. One type of Kale, Cavolo Nero, is also known as dinosaur kale – hence our smoothie name.
Ingredients:
4 leaves of blanched kale
1 apple
1 orange
1 banana
2 cups filtered water
Method:
Add everything to your high speed blender. Blend for 1 minute on highest speed. ENJOY!
Leafy Greens with Melted Leeks & Cardamom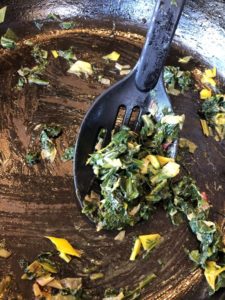 This works well with silverbeet, kale or Bloomsdale spinach. The cardamom brings a gorgeous warmth and flavour while the yoghurt and cream adds healthy fat and probiotics to maximize nutrient absorption.
Ingredients:
2 Tbsp grass fed butter
1 medium leek, cut into rounds
sea salt
500g greens, washed well, drained and roughly cut
freshly ground black pepper
¼ cup double cream
¼ cup yoghurt
¾ tsp fresh ground cardamom – or more to taste
Method:
Melt 1 Tbsp butter in a heavy based skillet over low heat.
Add the leeks and pinch salt – more if your butter is unsalted.
Cover tightly and gently sweat the leeks for around 15 mins till they are super soft – stirring occasionally to prevent sticking. If leeks begin to brown lower heat and add a Tbsp water.
Remove leeks from pan and wipe clean with a paper towel.
Raise heat to medium and melt the remaining butter in the pan.
Add as many greens as you can fit into the pan easily.
Season with salt and pepper and toss around till leaves wilt and you can fir more in, adding more salt and pepper each time till all the greens are in and well wilted.
Pour off any excess liquid.
Reduce heat to low, return leeks to the pan and add the cream, yoghurt and cardamom.
Cook for one minute, adjust seasonings to taste.
Serve immediately.
SERVES 4 AS A SIDE DISH
Recipes by Danielle O'Donoghue