Comfort cake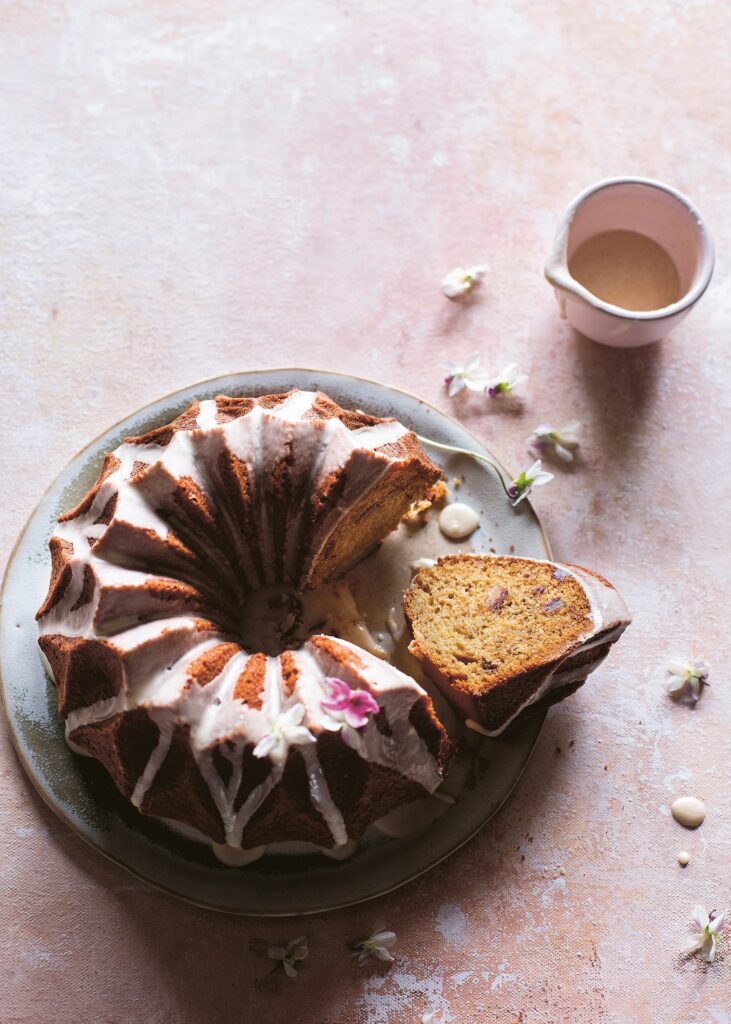 "This date and ginger cake is an adaptation of my mum's much-loved sticky date pudding recipe. Growing up, Mum's sticky date pudding was a dinner party staple – a simple, caramelly delight. The caramel sauce was a real favourite of mine until it was once confused with left-over gravy and served to me atop roast beef! Not such a winner. Nevertheless, I promise you this cake will become a firm favourite. It's comfortingly nostalgic, with a nice warmth from fresh ginger. It's the daytime version of Mum's pudding, really – easy and quite excellent." Tilly Pamment
MAKES ONE MEDIUM BUNDT CAKE
160 g (5½ oz) dried dates, roughly chopped
250 ml (9 fl oz) full-cream (whole) milk
165 g (5¾ oz) caster (superfine) sugar
125 g (4½ oz) unsalted butter
2 teaspoons finely diced fresh ginger
½ teaspoon bicarbonate of soda (baking soda)
2 eggs, lightly beaten
1 teaspoon vanilla bean paste
225 g (8 oz) plain (all-purpose) flour, plus extra to dust
1 teaspoon baking powder
pinch of salt
GINGER GLAZE
120 g (4¼ oz) icing (confectioners') sugar
½ teaspoon ground ginger
3 teaspoons boiling water
Preheat the oven to 160°C (315°F) fan-forced and grease a 1.5 litre (52 fl oz) bundt tin thoroughly with melted butter. Dust with a little plain flour, tapping out any excess.
Place the dates, milk, caster sugar, butter and diced ginger in a saucepan and heat until almost simmering, stirring occasionally. Remove from the heat and stir in the bicarbonate of soda. Allow to cool to room temperature. When the date mixture has cooled, add the eggs and vanilla and stir to combine. Place the flour, baking powder and salt in a large mixing bowl and whisk together. Pour the cooled date mixture in and stir gently to combine. Spoon the batter into the tin, smoothing the top and tapping the tin lightly on the bench to remove any air bubbles. Bake in the oven for 35–40 minutes or until risen and cooked through. Allow the cake to cool in the tin for 10 minutes before turning out onto a wire rack to cool completely.
When the cake is cool, make the ginger glaze. Combine the icing sugar, ground ginger and boiling water in a small mixing bowl. Mix until smooth, adding another splash of water if necessary, until you have a lovely drippy glaze. Pour over the cake and allow the glaze to set before slicing and serving. This cake keeps happily in an airtight container at room temperature for 2–3 days – just warm the slices slightly before serving.
TEA & BLOOMS MATCH
Milky English breakfast and violets.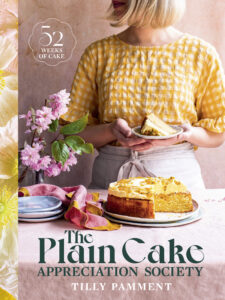 Images and text from The Plain Cake Appreciation Society by Tilly Pamment, photography by Tilly Pamment. Murdoch Books RRP $39.99
Book Signing

Meet Tilly at her book signing at The Little Lost Bookshop Wednesday 8th November.