Sophie Hansen's Chocolate, hazelnut and espresso cake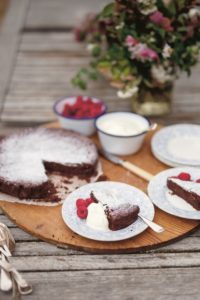 "I have been making this cake for many years. It was a staple and popular dessert item when we used to run farm tours and lunches every month and here's why: it's really stable, in the sense that you can make it a day or two ahead, wrap it tightly and it will be even nicer. Plus, the flavour combination of chocolate, hazelnut and coffee is a proven winner, and it's not at all hard to throw together. I've served this with poached pears on the side, with ice cream, with cream and just on its own. It's always beautiful." Sophie Hansen
This recipe makes quite a large cake but it does last well for a few days and a little slice with coffee makes a lovely morning tea. Plus it freezes well.
Ingredients
5 eggs
¾ cup (165 g) firmly packed brown sugar
1 shot (30 ml/1 fl oz) espresso coffee
2 ¾ cups (410 g) chopped dark chocolate
1 cup (250 g) unsalted butter, chopped
100 g (3 ½ oz) hazelnut meal
1 ½ tsp baking powder
1 tsp vanilla extract
A pinch of salt
Thick (double) cream, to serve
Fresh raspberries, to serve
Method
Preheat the oven to 150°C (300°F). Grease a 24 cm (9 ½ inch) spring-form tin. Line the tin with baking paper.
Using an electric mixer, beat the eggs and half the brown sugar for at least 5 minutes or until pale and fluffy and doubled in size.
Combine the remaining brown sugar, coffee, chocolate and butter in a heatproof bowl over a saucepan of simmering water. Cook, stirring often, until you have a smooth, shiny mixture.
Pour the chocolate mixture into the egg and sugar mixture and very gently fold together. Add the hazelnut meal, baking powder, vanilla and salt and gently fold together.
Transfer the batter to the cake tin and smooth the top. Bake for 40 minutes or until the cake feels just set in the middle. Leave to cool for 10 minutes before removing from the tin.
Serve the cake warm or at room temperature, with the cream and raspberries.
Serves 6-8 (with leftovers)
Prep time: 20 mins
Cook time: 45 mins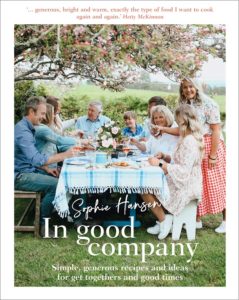 Images and text from In Good Company by Sophie Hansen; photography by Sophie Hansen. Murdoch Books RRP $39.99.