Haloumi and pomegranate salad
The original "forbidden fruit" is the star of this tempting salad.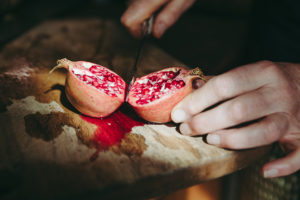 Photo: Maja Baska
Ingredients
1/2 cup (50g) raw walnuts, slightly crushed
1 tbsp honey
2 tbsp pomegranate molasses
1 tbsp lemon juice
2 tsp Dijon mustard
1/4 cup (60ml) extra virgin olive oil
180g haloumi, thinly sliced
2 cups of rocket
1 cup of baby spinach leaves
1 pomegranate, seeded
Method
Preheat oven to 180C. Line a baking tray with baking paper. Scatter walnuts over the tray and drizzle with honey. Bake for 5-7 minutes or until walnuts caramelise. Remove from oven and set aside to cool.
Combine pomegranate molasses, lemon juice, Dijon mustard and 2 tbsp oil in a screw-top jar and shake until well combined. Season with salt and pepper.
Heat the remaining oil in a large frying pan over high heat. Add the haloumi; cook, turning, for 2 minutes or until golden brown and heated through. Remove from the heat.
Combine rocket and spinach in a large bowl. Drizzle with dressing and gently toss to combine. Arrange on serving plates. Top with haloumi and walnuts and sprinkle with pomegranate seeds. Serve immediately.
Recipe adapted from taste.com