So you want to be a volunteer?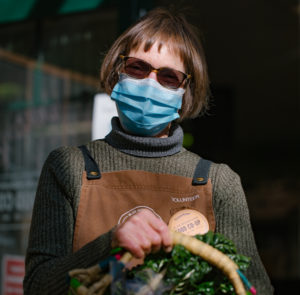 Interested in volunteering at the Co-op but don't know where to start? Our vollie co-ordinator, Bec Tyson, shares some FAQs.
What are the benefits of volunteering at the co-op?
The biggest benefit of volunteering is the extra discount you can earn on your shopping. For every 2 hours of volunteering you do at the Co-op you will earn a 20% discount on $125 worth of shopping. Your points don't expire and they are never wasted. If you make a $5 purchase in the shop, you can ask to use your vollie points (or "vollies" for short) and you will get a $1 discount. Our computer system keeps track of your points and only deducts what you have used, preserving the rest for whenever you spend them. You must be a current member to access the volunteering system at the Co-op, including expenditure of your points. Other benefits include learning more about the Co-op and our products and meeting or bumping into new or already known like minded people. If you don't already have strong retail skills, you will improve these as well.
What skills is the Co-op looking for in a volunteer (or "vollie" for short)?
The Co-op shop is a retail environment, however we are accepting of volunteers with all levels of skill in retail – from none to a lot! The ability to work independently but also take direction from staff in the shop will be important for your volunteering.
How do I become a volunteer?
The first step is to fill out our volunteer form here. I will then contact you with options for attending a training session. Once you have completed the training you are ready to volunteer in the Co-op shop!
What training will I receive?
Training usually takes place in the evening, after the shop is closed, and goes for 2-2.5 hours (you receive vollie points for training). During the training session we tour the entire shop (including all of the behind the scenes areas), look at some of the jobs you will do as a volunteer, talk about health and safety and learn how to book in a shift.
How do I book in a shift?
We use a google sheet for volunteers to book themselves in for shop shifts. I will show you how to do this at training.
What will my volunteer shift look like?
When you arrive for your vollie shift, you'll put on your apron and your name badge and let the staff know that you're there for volunteering. You will then look around the shop and prioritise the jobs that you will get started with. The staff on shift, or the previous vollie might have some input for this. You will do tasks like cleaning spills frequently, sweeping inside and out, restocking paper towels, clean spoons and paper bags, clearing the sink, running the dishwasher for the free jars and other things, doing laundry, tidying boxes and baskets and
restocking items such as packaged teas, packaged groceries, eggs or tinned foods.
Are there other ways I can volunteer apart from working in the shop?
Yes! We have out of hours cleaning bees for deep cleaning of the shop and for cleaning the fruit and veggie baskets. We also have occasional tasks for special skills which are advertised in the monthly vollie newsletter. When you sign up to volunteer, you can tell us about any special skills you have so we can put you in our database.
Who do I contact if I have any questions or if I need some support?
You can contact me by text, email or call, whatever your question! Phone: 0435 864 911 Email: volunteers@bmfoodcoop.org.au
I really look forward to meeting you and supporting you as a volunteer at the Co-op.