Eating seasonally – Autumn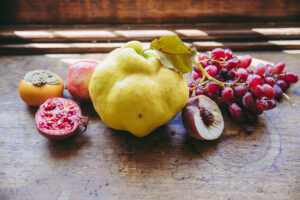 Rain and flooding in major growing regions and the unfortunate events in Ukraine affecting oil prices are leading to price increases and limited availability on some items says Maddison Pitt our Fruit & Veg Coordinator.
Local growers have been struggling with rain damage but local produce should become more abundantly available in store come the end of April early May. Please support our Mountains growers when you see their produce in store or buy direct from their farm gates.
As days are getting shorter and nights cooler, warming foods are becoming available. Think slow cooked root vegetables! Parsnips, turnips, swede, interesting variety of potato including  midnight purple (delicious and completely purple), Kipfler and of course Dutch creams.
There's plenty of local garlic available from Rylstone and Megalong Valley to add flavour to dishes. You can also keep some to plant as it's the perfect time to try some locally acclimatised garlic varieties.
Fruit – pears and pomegranates are in store now. Custard apples and NT grown date varieties (super yummy and sell out fast!) will be available shortly.
Broccoli and cabbages will be in short supply for a few months. And cauliflowers/greens are getting more expensive.
New in store
Exciting new product line from Mabu Mabu.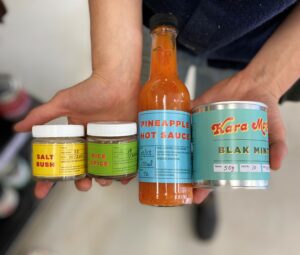 "Our range of pantry items is titled 'Kara Meta.' In the language of the Meriam People of Mer Island in the Torres Strait, this means 'my home.'
Our small batch teas, spices, and sauces with Indigenous and tropical flavours are all made by hand and sourced from suppliers who are passionate about Australia's Indigenous food industry. We are on a mission to put Indigenous ingredients in kitchens across Australia. Join us in celebrating the diversity and flavour of Indigenous Australian foods."
Easter goodies
Hot X buns – original, goji, white choc and cranberry, dark choc and apricot
Milk choc and dark choc bunnies, carob eggs, huge varieties of Loco Love, Loving Earth, Deva, Spencer Cocoa and more! Plus, don't forget our range of bulk chocolates and chocolate covered fruit and nuts.
Snack time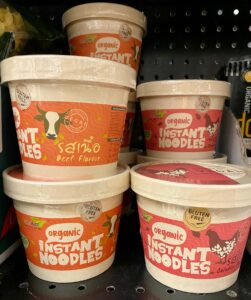 New pot noodles, vegan and gluten-free chicken and beef flavours.
Fresh NSW grown carob pods! PSA: de-seed them before you munch so as not to damage your teeth!
Herbal health
We now have bulk supplies of Moringa: an Aryuvedic herb which is vitamin and mineral rich with antioxidant properties, and Dong Quai: a Traditional Chinese Medicinal herb used for PMS, menstrual cramps, and as a blood purifier.
Fridge items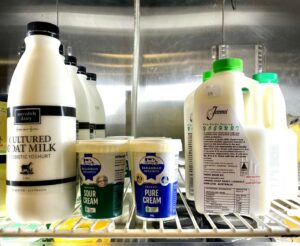 New in the fridge now! Local Jannei Dairy goat's milk pouring/drinking yoghurt