Book worm
Here is a selection of six of our favourite eco-themed books to read or gift.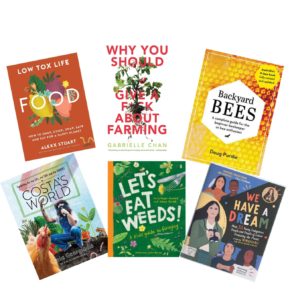 Backyard Bees by Doug Purdie
Murdoch books
RRP $36.99
Backyard Bees by Doug Purdie claims to be "A complete guide for the beginner beekeeper or bee enthusiast" and somehow, although that's a huge task, this book manages to hit the mark.
If you already have a hive (or 10, apparently its addictive…) you'll love Doug's enthusiasm and passion. You'll find great anecdotes from himself and keepers around Australia about all of the bee things: Choosing hive sites (and why it's important to get it right); performing hive inspections – why to wear a full suit (and all the places to tuck it in); angry hives and beekeeping myths.
Backyard Bees is a detailed and thorough guide on beekeeping; it's obvious Doug is passionate about the amazing and important part that bees play in our natural world. This book's only agenda is for you to know and love the bees, and to find your own way in the world of bees, whether that means keeping your own hive or spotting native bees out in nature. If you're just starting out with hives, or wondering if it's for you this book will teach you something, not just about how others keep bees, but how you can too.
Reviewed by would-bee bee keeper, and Blue Mountains Food Co-op staff member, Rebecca Gonthier.
Let's Eat Weeds by Annie Raser-Rowland and Adam Grubb
Scribble
RRP $24.95
From the folk that brought us that essential guide, The Weed Foragers Handbook, comes a beautifully illustrated children's guide to foraging packed with harvesting tips and recipes that will have the kids eating their way through the backyard in no time. Described as "the ultimate companion for the young urban or rural forager" this book is practical and engaging and is recommended for children aged 5-10.
Costa's World by Costa Georgiadis
Harper Collins
RRP$45
Bringing together all of Costa's gardening and sustainability knowledge, this is a book for the whole family that reflects Costa's philosophy and quirky sense of fun.
Costa's World is a generous, joyous, fully illustrated gardening book that celebrates the life-changing joy of chooks; kids in the garden; big ideas for small spaces; Costa's favourite plants; growing the right plants for your conditions; biodiversity in the soil and garden; the power of community; the brilliance of bees and pollinators; easy-peasy permaculture; and much, much more.
Low Tox Life – Food by Alexx Stuart
Murdoch Books
RRP $36.99
A toolkit for answering the question 'what should I eat for my health and for the planet?' by the bestselling author of Low Tox Life.
What are the best foods to put in your shopping basket for your health and for the planet? Is it necessary to cut out meat, almonds and go organic? Who can afford it anyway?
Bestselling author of Low Tox Life and 'ultimate gentle activist' Alexx Stuart clears a path through the rules so stridently laid down by proponents of particular diets. She turns the tables on a supermarket system that is geared strongly against our health and the environment, and points to the how rather than the what. Because questioning how your food is grown is the key to unlocking dependence on a broken food system and to finding easy and delicious answers to that daily conundrum: what's for  dinner?
Low Tox Life Food is packed with inspiration and stories from regenerative farmers, checklists for what to ask about the produce you buy, ways to afford better choices, as well as 80 of Alexx's most requested recipes for budget-friendly, easily adaptable meals without waste.
Why You Should Give a F*** About Farming by Gabrielle Chan
Penguin Vintage Australia
RRP $34.99
There is no farmers and others. If you eat or wear clothes, the decisions you make influence farming.
'Eaters will be the ultimate arbiter of where and how food is grown and how the land is cared for … We all have a stake in the future of food and farming. I am going to show you why.'
Farming sits at the intersection of the world's biggest challenges around climate change, soil, water, energy, natural disasters and zoonotic diseases. Yet Australia has no national food policy. No national agriculture strategy. Our water policy is close to the Hunger Games. People with means can shop at farmers' markets and order brunch, by the provenance of their eggs, bacon, butter, tomatoes and greens. But do they really understand the trade-offs required to grow it?
In this book Gabrielle Chan examines the past, present and future of farming with her characteristically forensic eye. She lays out how our nation, its leaders, farmers and eaters can usher in new ways for us to work and live on our unique and precious land. We must forge a new social contract if we are to grow healthy food on a thriving landscape, while mitigating climate and biodiversity loss.
This important book will change your thinking about food, farming and how you eat.
We Have a Dream by Dr Mya-Rose Craig. Illustrated by Sabrena Khadija
Magic Cat
RRP $29.99
Meet 30 young Indigenous people and people of colour protecting the planet, including Blue Mountains activist Taylor Clarke.
Indigenous people and people of colour are disproportionately affected by climate change, yet often aren't heard in global conversation. In this book, British—Bangladeshi environmentalist and race activist 'Birdgirl' Mya-Rose Craig speaks to campaigners from around the world about what needs to be done.
From wildlife conservation to clean water, air pollution to plastic waste, climate justice to climate strikes, the time has come to listen to a generation of young people of colour demanding urgent change for the world they will inherit.
Mya Rose-Craig is a British-Bangladeshi naturalist, environmentalist and race activist. In February 2020, Mya-Rose became the youngest British person to be awarded an honorary doctorate in science from Bristol University, in recognition of her five years of campaigning for diversity in the environmental sector.
Sabrena Khadija is a Sierra Leonean-American illustrator. As a Black creative, Sabrena takes a lot of pride in creating work that helps others feel seen and inspired. Not only to see beauty within themselves, but to recognise and acknowledge that of others. Of her practise, she says, "I am one of the growing number of human beings who seek inclusive and innovative spaces to explore art and creativity in meaningful and impactful ways."
To find these books and many other great local and environmental reads head to Little Lost Bookshop (our neighbours in Ha'Penny Lane) and ask about using your Co-op membership on these titles.