Beautiful bees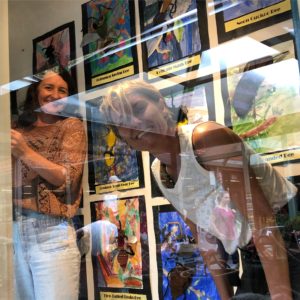 Katoomba Public School teachers Sue Campbell-Neale and Sally Dare gave up some of their holidays to install this stunning exhibition of their students' work in our Big Little Gallery.
Here's some background to the work.
At Katoomba Public School students in 3/4S learnt about pollination in science.
In learning about the anatomy of a flower students examined cross-sections of flowers to understand the parts involved in pollination. In understanding the anatomy of the bee each student looked closely at one native bee.
The class was inspired by images from the native bees of New South Wales poster by Gina Cranson. Students created anatomically correct representations of their bee using various materials and then painted a background of a native bush setting.
Sue Campbell-Neale
Teacher