Meet Jenny Rubbio, our February 'Vollie of the Month'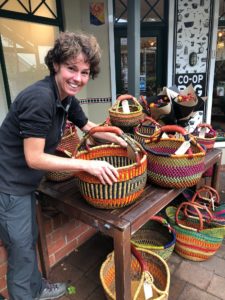 Jenny started volunteering at the Co-op over five years ago when she moved to the mountains from inner western Sydney. "I had been a member of Alfalfa House, so searched out the Co-op when I moved here. I wanted to meet people in my new community so thought volunteering would be a good idea."
Jenny began volunteering in the main shop and when the Big Little Shop opened put her accounting skills to use helping out with stocktakes. Her special talent for basket shaping was soon discovered and now Jenny is the go-to vollie when we receive a new shipment of beautiful Bolga baskets.
Jenny says she loves the "vibe" at the Co-op.  "All the staff are warm and friendly and I get to chat to lots of different customers."
If you're interested in volunteering at the Co-op fill out our online enquiry form or contact our Volunteers Coordinator, Elmira at volunteers@bmfoodcoop.org.au.