Comfort food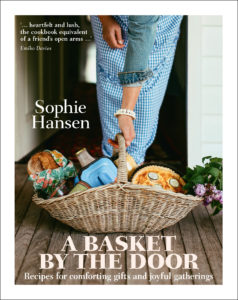 Like a big, warm hug from a dear friend, Sophie Hansen's latest book, A Basket by the Door, makes you feel loved and fussed over and provides all the kitchen inspiration you'll need to make a transportable edible gift for someone you love in any situation.
Whether you're welcoming newborns, comforting the elderly or infirm, brightening spirits or picnicking in style, Sophie's heartfelt offering of recipes and tips is uplifting and practical. The book is filled with traditional seasonal recipes and gorgeous photography of hearty produce and beautiful bucolic scenes from Sophie's farm near Orange.
Recipes include venison shepherds pie, syrup-soaked lemon, blueberry and rosemary cake, apple, fennel and pork sausage rolls and an assortment of jams, pickles, tarts and more.
With Sophie's help you'll always know what to bring when someone says "don't bring anything".
A Basket by the Door by Sophie Hansen is published by Murdoch Books RRP $39.99