Ethical blooms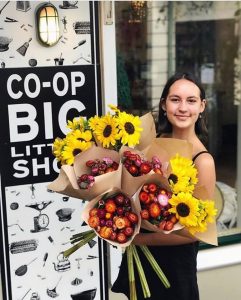 Slow flowers, like slow food, are seasonal, sustainable, bio-diverse, low-tox flowers produced for local communities. We are lucky to have slow flower producers in the Blue Mountains.
Inspired by the farm-to-table movement, Blue Mountains florist and horticulturist Celine and her husband Tristan of Floral by Nature grow chemical free flowers on their farm in the Kanimbla Valley to provide the local community with a healthier, eco-conscious alternative to mass-market Australian grown and imported chemical-laden flowers.
Floral by Nature grow their flowers without the use of any toxic chemicals or pesticides – a great alternative to flowers that travel many kilometres and are produced using chemicals.
Celine uses her floristry and horticultural experience to grow flowers that are suited to the local climate and have a good vase life, and then designs beautiful original bouquets. A great eco choice for gifts or to adorn your home.
Floral by Nature are back at the Co-op, with deliveries on Wednesday and Friday mornings to the Co-op Little Shop through to autumn. We also have flowers from local growers Trina Lord, Grace Shanti and Sandra Tyson coming in regularly at the moment.