Myrtle tea cake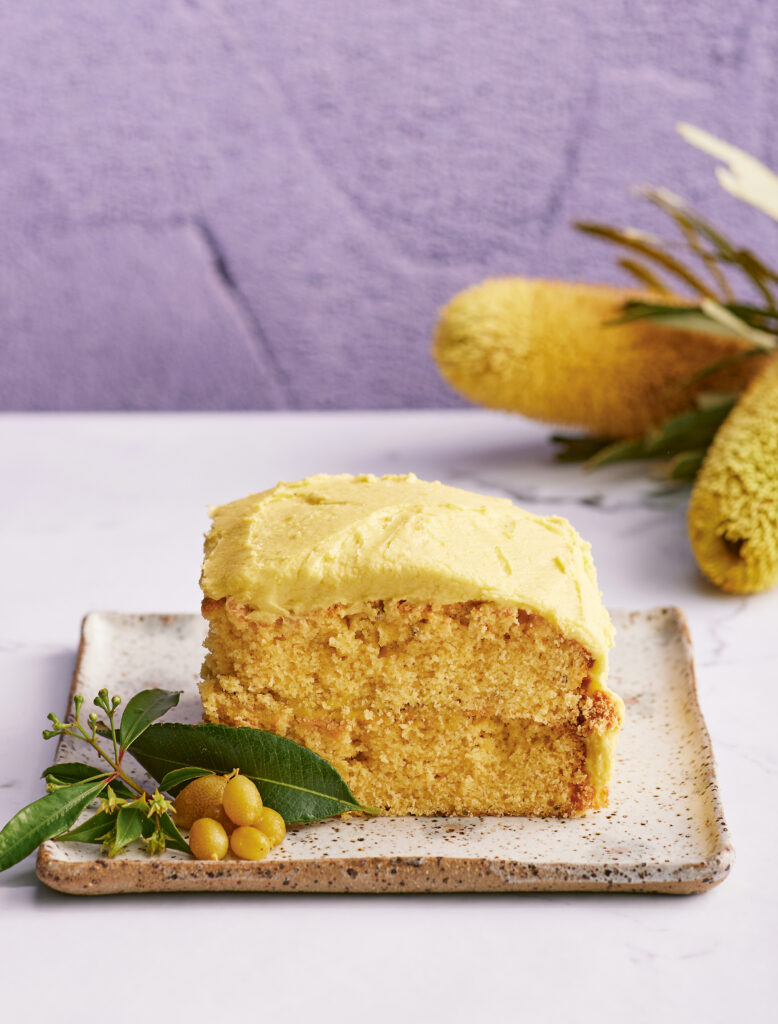 "If anything reminds me of being a kid it's tea cake. My Auntie Sally made the most moist, buttery cake ever, always with white icing and sprinkles. This is a little more grown up but just as much fun." Rebecca Sullivan
Makes 1 cake
320 g (11¼ oz) butter, grated and softened, plus extra for greasing
3 cups (660 g) caster sugar
3 cups (450 g) self-raising flour
½ cup (70 g) custard powder
3 free-range eggs
1½ cups (375 ml) milk
2 teaspoons ground cinnamon myrtle
2 teaspoons ground anise myrtle
2 teaspoons ground lemon myrtle
Finely grated zest of 2 finger limes (see substitute list)
DESERT LIME ICING
280 g (10 oz) butter, melted
400 g (14 oz) pure icing sugar, sifted
4 egg yolks
2 teaspoons desert lime powder or finely grated zest of 2 lemons
Preheat oven to 160°C (315°F). Grease and line a 20 cm (8 in) square cake tin.
Combine all ingredients, except those for the icing, in a stand mixer fitted with the whisk attachment. Start on low, then slowly increase speed to high. Beat on high for 4–5 minutes, scraping down bowl occasionally if needed, until batter is pale and fluffy.
Pour batter into tin and bake for 40–45 minutes or until light golden and a skewer inserted into the centre comes out clean. Cool in tin for 5 minutes, then turn out onto a wire rack to cool completely. Cut in half lengthwise.
For icing, mix butter and icing sugar in a small bowl until well combined. Stir in egg yolks and desert lime powder. Spread top and sides of one cake generously with icing, top with the other cake and spread with remaining icing.
Substitution options:
Cinnamon myrtle – ground cinnamon
Anise myrtle – fennel flowers
Lemon myrtle – lemon zest
Finger lime zest – lemon zest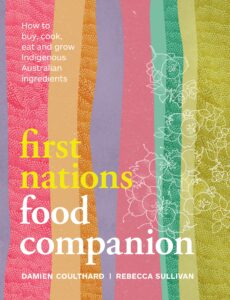 Images and text from First Nations Food Companion by Damien Coulthard and Rebecca Sullivan, photography by Josh Geelen. Murdoch Books RRP $49.99.