My favourite autumn recipe
The winner of our autumn newsletter competition to win a copy of Around the Kitchen Table by Sophie Hansen and Annie Herron, is Moira Hickman. Here she shares her favourite autumn apple cake recipe.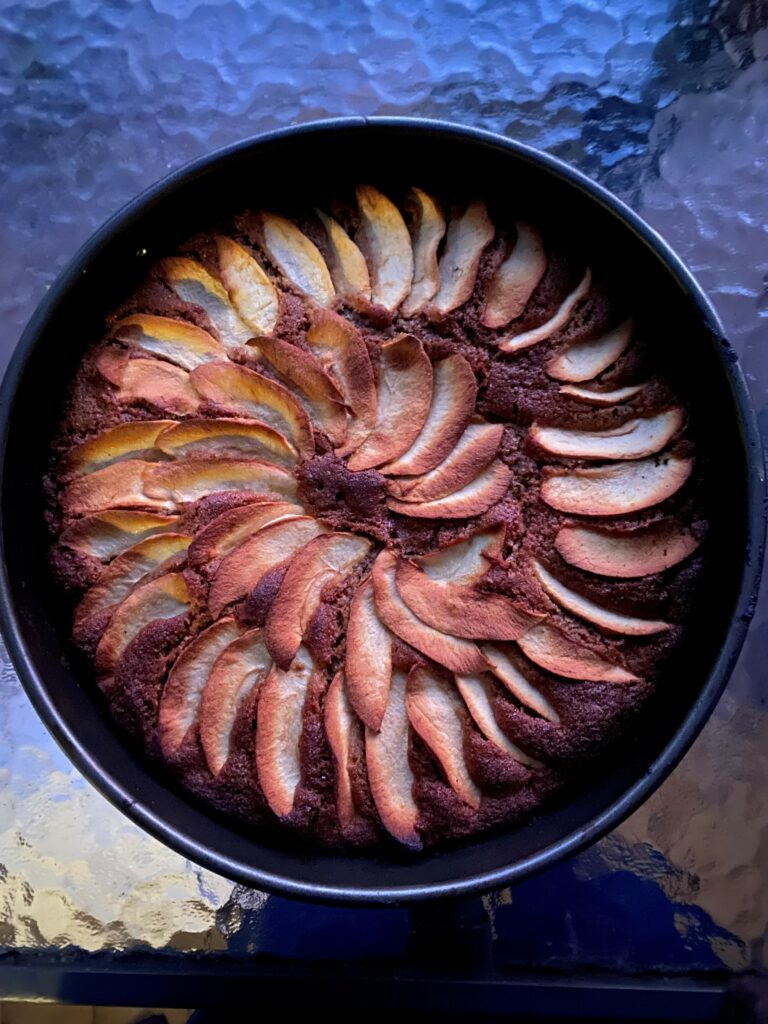 Every autumn I like to cook apple cakes with apples from Logan Brae and the other ingredients from Blue Mountains Food Co-op – of course!
I have used a variety of recipes, including some by Sophie Hansen, however this particular recipe is from Sydney chef Danielle Alvarez @daniellemariealvarez who generously shares recipes on her Instagram account. (You can find step-by-step instructions in her highlights.)
The photo of the apple cake was taken by me, of Danielle's apple cake I made a few weeks ago. It's the best cake to share with friends, either with yoghurt or cream or perhaps a mixture of both.
Enjoy!
Buckwheat and apple cake
Ingredients:
400g chopped apples (peeled, core3d and then diced into 2cm pieces, approximately 4-5 small apples) plus 2 apples peeled, cored and thinly sliced
165ml full cream milk (may be substituted with oat milk)
1 egg
1 tsp, apple cider vinegar
150g butter
200g dark brown or dark muscovado sugar
2 tsp vanilla essence
200g light buckwheat flour (may be substituted with spelt or plain flour)
100g almond meal
1 tsp ground cinnamon
¼ tsp ground clove
¼ tsp ground allspice
1/8 tsp nutmeg
¼ tsp fine sea salt
1.5 tsp baking powder
Method:
Set your oven to 175 degrees Celsius with a rack in the centre of the oven. Butter a cake tin fully and line the bottom with baking paper.
Brown the butter in a small but tall saucepan. Be careful while doing this as the butter will want to bubble and rise over the edges if you're not stirring it towards the end. It's done when it's golden in colour and the bubbles have turned to more of a foam on top of the liquid and it smells nutty and delicious. Set aside to cool.
Mix the sugar, milk, vanilla, vinegar, and egg in a large bowl. Using a whisk, add the cooled brown butter and continue mixing until combined. In a separate bowl mix the remaining dry ingredients and spices using a whisk and then all at once pour the dry onto the wet and mix just enough to combine, a few small lumps are ok.
Add in your apples and mix with a spatula to combine. The mixture will be thick so pour and spread this mixture into the tin and then fan out the sliced apples in a circular pattern on top of the batter.
Place into the oven and allow to bake until cake tester, used in the centre, comes out clean. If you're using an oven with a fan it will take less time.
Anywhere between 50-75 minutes.
The size of the tin you use could also alter this; wider will need less time, narrow would require more time.