Salad as mains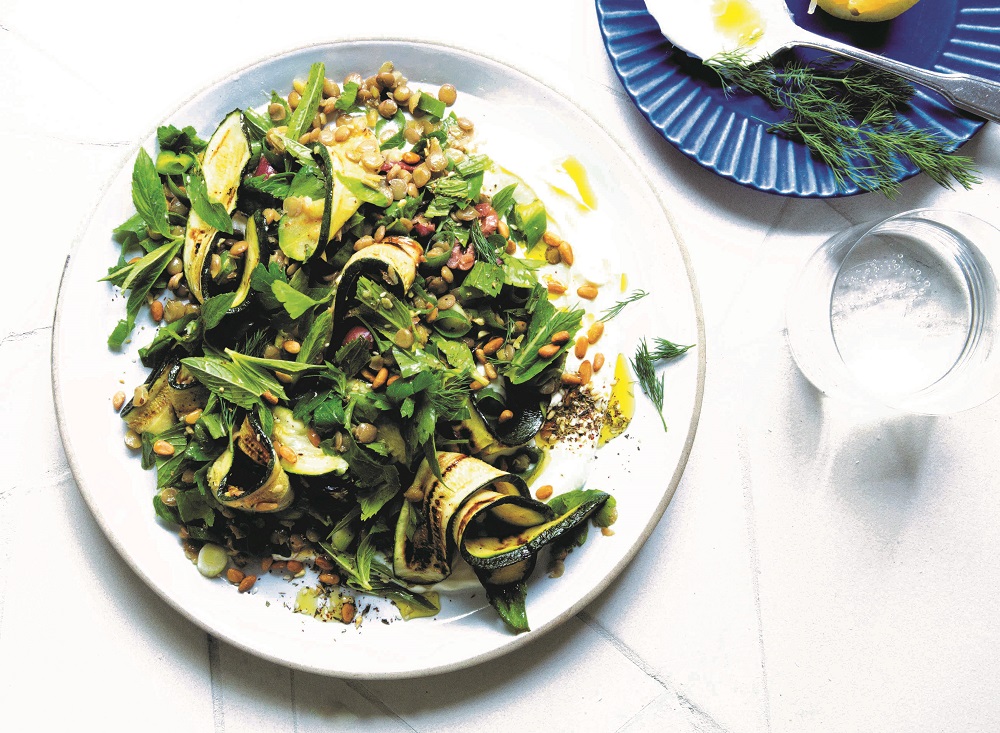 "This is simple deliciousness at its best. A salad that is a meal on its own and perfect alongside anything from grilled meats, fish and even some haloumi or a tomato salad," says chef Tom Walton. "The meatiness of caramelised zucchini and lentils gives this salad so much body, with a lemon dressing cutting through, lots of herbs and the creamy yoghurt."
Ingredients:
4 medium zucchinis, sliced
lengthways 5mm thick
120ml olive oil
400g cooked (or canned) lentils,
rinsed and drained well
½ cup sliced green shallots
Handful each flat-leaf
parsley and mint, coarsely
chopped
½ cup Kalamata olives, halved
½ cup toasted pine nuts
1 lemon
1 tbsp red wine vinegar
1 cup natural yoghurt
1 tbsp za'atar (see note)
Small handful dill, picked
Method:
1. Preheat a barbecue or grill plate over a high heat. Brush the zucchini with 2 tbsp of the olive oil and season to taste with sea salt and ground pepper. Grill for about 1½ minutes each side – you want the zucchini charred but not overcooked as it will soften as it sits. Do this in batches if needed then transfer zucchini to a large mixing bowl. Add the lentils, shallots, herbs, olives, pine nuts, zest and juice of lemon, vinegar and the remaining olive oil. Season lightly to taste and gently mix.
2. Spread the yoghurt over a platter. Spoon the salad on top and sprinkle with the za'atar and dill.
SERVES 4 | PREP TIME 15 MINS | COOK 5 MINS
This is an extract from Eatable Volume 6, The Holiday edition, eatable.net.au. Recipe by Tom Walton. Photography by Lisa Featherby.