Corn fritters
These fritters are great for breakfast or any time!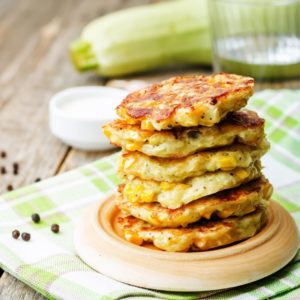 Ingredients
3 cups of corn kernels
a handful of chopped spring onions
half a cup of fresh parsley or coriander, chopped
2 eggs, lightly beaten
1 cup plain flour*
1 tsp baking powder
3 tbsp olive oil for frying
salt & pepper to taste
*You can substitute gluten-free flour and baking powder
Method
Place 2 cups of the corn kernels, spring onions, eggs, herbs, and salt and pepper in a large bowl and blitz with a stick blender until most of the corn is pureed but still lumpy.
Add the rest of the corn, flour and baking powder and mix well.
Heat oil in a heavy based frypan and drop 2 tablespoons of the mixture into the pan for each fritter.
Fry until golden brown on both sides, approx. 3 minutes, drain on paper towel and serve.
Great for breakfast topped with avocado salsa!
Recipe from Bill Granger via Recipe Tin Eats