Chocolate o'clock
Moist and moreish these vegan, gluten-free brownies are good for you too!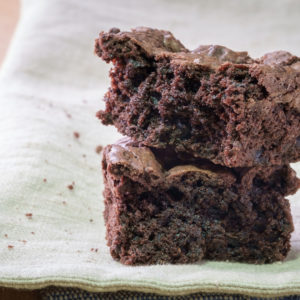 Ingredients
2 cups of gluten-free flour
1 cups of cocoa powder
2 tsp cinnamon
2 tsp baking powder
1 tsp bicarb soda
1/2 tsp salt
2 cups of beetroot puree (approx. 1kg whole beetroot)
1 1/2 cups coconut oil, melted
4 cups brown sugar
2 tsp vanilla extract
extra cocoa and shredded coconut for dusting
Method
To make the beetroot puree, boil whole beetroots in enough water to cover, until tender (about 45 minutes). Drain, reserving some of the cooking liquid, ad allow to cool. When they are cool enough to handle, peel off the skin, chop roughly, and throw into a food processor. Blitz until you have a smooth puree.
Combine all dry ingredients in a large mixing bowl. Mix in wet ingredients until well combined. You may need to add some of the beet cooking liquid to get a good consistency.
Spread into a greased, lined baking tray and cook for 30 minutes at 180 degrees C. When cool, cut into squares and dust with cocoa powder or shredded coconut.
Recipe adapted from the Feeding the Resistance by Lisa Searle and the Bob Brown Foundation.