Brown butter, rhubarb & custard cake
by Annie Barnes of Art Food Culture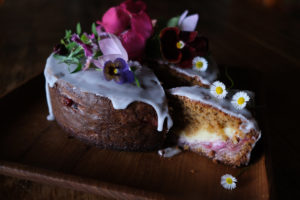 Rhubarb:
Buy a bunch of thin stemmed, locally grown rhubarb from the Co-op. Trim, wash, chop into small pieces and simmer with a splash of water and about 3tbs brown sugar until tender.  Let cool.
Custard:
1 cup of milk
1/2 a vanilla pod
1 egg
50g sugar
25g cornstarch
1/2 teaspoon salt
35g butter
Heat milk and vanilla in a saucepan. Whisk egg, sugar, cornstach and salt in a bowl. Pour the hot milk over this and whisk at the same time.
Return the whole lot to the saucepan and whisk over heat continuously until the custard thickens and is glossy. Let cool.
Whisk in butter until fully absorbed. Let cool.
Cake Batter:
125g butter
1tsp vanilla
240g brown sugar
3 eggs
225g organic plain unbleached cake flour (co-op)
1 tsp baking powder
1/2 tsp bicarb
1/2 cup milk
Melt butter in a saucepan and keep it on the heat until a little browned. Remove from saucepan and let cool. Whisk vanilla and brown sugar into cooled butter till light and fluffy
Add eggs one at a time then fold through dry ingredients alternatively with wet.
To Bake:
Line a 20cm springform tin with baking paper. Pour in 2/3 cake batter and spread rhubarb over. Spread custard over and spread remaining cake batter over.
Bake in 180c oven till cooked (it will rise, shrink a little from sides and a skewer inserted into centre will come out with a few crumbs on rather than raw batter smeared up it)
When cool mix a little icing sugar with rose water and drizzle over the cake.
Forage your garden or steal from the neighbours that don't use Roundup for flowers and scatter effortlessly yet artistically over the cake as if you are a stylist trapped in an earth mother's body.
Photograph the cake and try and flog it to someone on FB so you can recoup the costs, because you are on the bloody dole because Covid.
To read Annie's full blog and check out her other awesome work click here.