Rhiannon Phillips of Mountains Gourmet
Jacqueline and Maddison spend some time in the patch with local grower Rhiannon Phillips of Mountains Gourmet.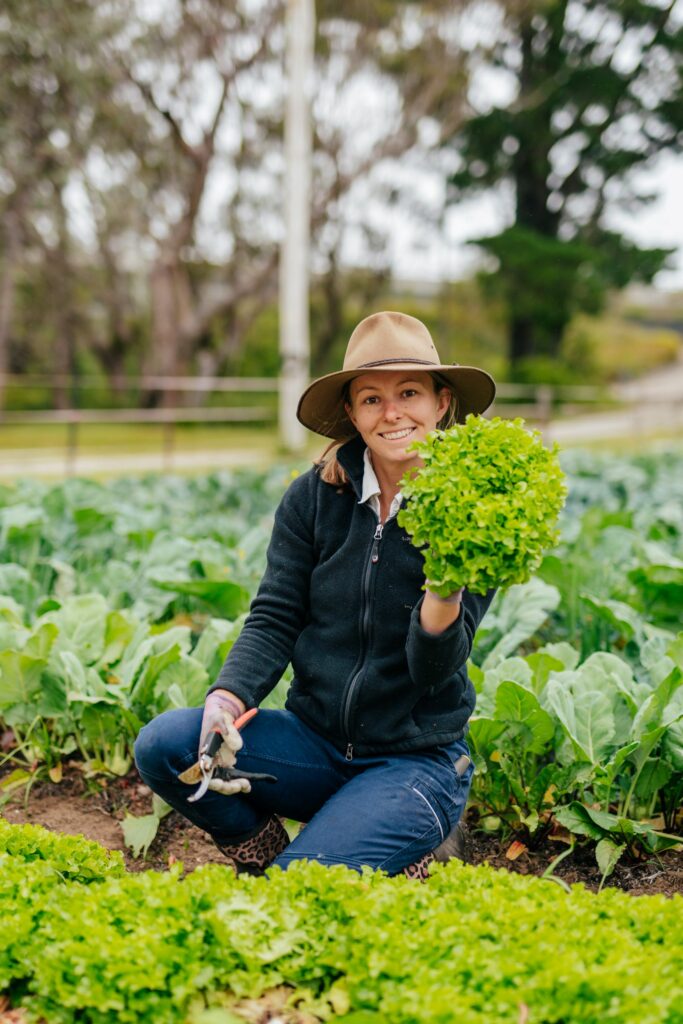 When I sat down for dinner last night my plate was brimful with local regeneratively grown food. There were carrots from Bilpin, silverbeet and herbs from Katoomba, capsicums and tomatoes from Springwood, broccoli from Lawson, and meat from Hartley. I'm lucky enough to know each of the people who grew my meal and that by buying their produce I'm not only helping to sustain their families but our local economy.
One of those growers, who supplies the Co-op with a variety of veg, is Rhiannon Phillips of Mountains Gourmet. Rhiannon tends three plots in the mid-Mountains including one at Lawson where Co-op fruit and veg coordinator, Maddison Pitt, and I met her to check out the productive patch.
"This whole area used to be a dairy farm," says Rhiannon indicating the north facing block that slopes away into bushland. Rhiannon has about half an acre under cultivation here and not only grows for Blue Mountains Food Co-op, but also for Lyttleton Stores Co-op, digital media giant Canva, and local shops and restaurants like Black Cockatoo bakery and Canton Palace, as well as offering vegie boxes.
It's a lot of work for one person and Rhiannon says she is grateful for help from volunteers. "I have some wonderful volunteers but otherwise try to keep things low maintenance. I didn't plant many high maintenance crops over summer, like cucumber or beans that require a lot of fiddling and continual harvesting, because I knew I wouldn't be able to keep up with them. Tomatoes were enough for me!"
What she does have growing abundantly when we visit is kale and silverbeet, destined for the co-op on a weekly basis, leeks, spring onions, fennel, coriander, parsley, lettuce, bok and pak choy, and broccoli which she let's go to seed for the bees.
Experimental crops include eggplant, chilli (bullhorns, green cayenne, jalapeno), corn, and pumpkins including the fairy tale Cinderella variety.
"It's worthwhile experimenting so next season I'll know what's going to grow well and what's not worth my time."
This month Rhiannon will be busy planting five different garlic varieties to see which grows best at the Lawson plot.
Regen agriculture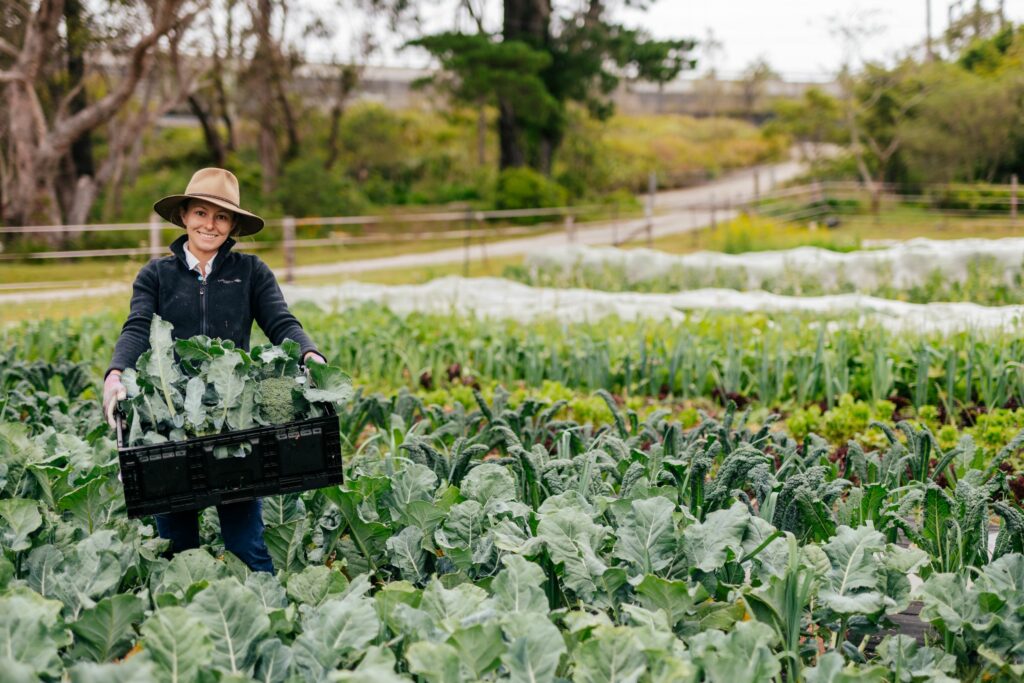 To establish this veg garden Rhiannon hired a power harrow (a little known, Italian designed tractor implement) to prepare the topsoil and disturb the weeds. She then inoculated the soil with beneficial microbes to prevent weed germination.
Pest control is limited to hand-squashing cabbage moth that get caught under netting or the occasional use of Dipel* to control caterpillars. "Cabbage moth (white butterflies) are actually great pollinators," says Rhiannon. "Only the caterpillar is evil but it's also a great food source for the finches."
Shield bugs and slugs are also a nuisance. "Every slug pellet that I've investigated is pretty much toxic for the soil so I avoid using anything like that and just tell everyone to wash their veg really thoroughly."
Other wildlife in the patch include a wallaby that "so far hasn't damaged anything", a resident blue tongue lizard, and a few mice. But being close to the bush is also a blessing. "Every evening, around dusk, the local birds come through and eat all the pests. I've even seen a kookaburra eating slugs."
"I definitely wouldn't be growing food in the mountains if the co-op wasn't here to support me."
Background
Rhiannon brings a wealth of knowledge and experience to the local farming scene. "My degree, a BA in Animals and Veterinary Bioscience (Hons) from Sydney University, had a lot of agriculture in it and I grew up growing things at home," she says. "I travelled for eighteen months up and down the east coast and out to Alice Springs working on a lot of farms just figuring out what I wanted to do. When Covid hit I got a position at Hebron Farm in Lower Portland and that's when I started growing full time."
It was a leap of faith for Rhiannon to go out on her own and establish Mountains Gourmet. "I'd been thinking about it for some time because it was a long way to travel to Lower Portland from my home in the mid mountains. Then after the constant flooding in the Hawkesbury I thought it's not worth it, especially when there's so much opportunity here. It was a big jump in the deep end and I definitely wouldn't be growing food in the mountains if the co-op wasn't here to support me."
Workshops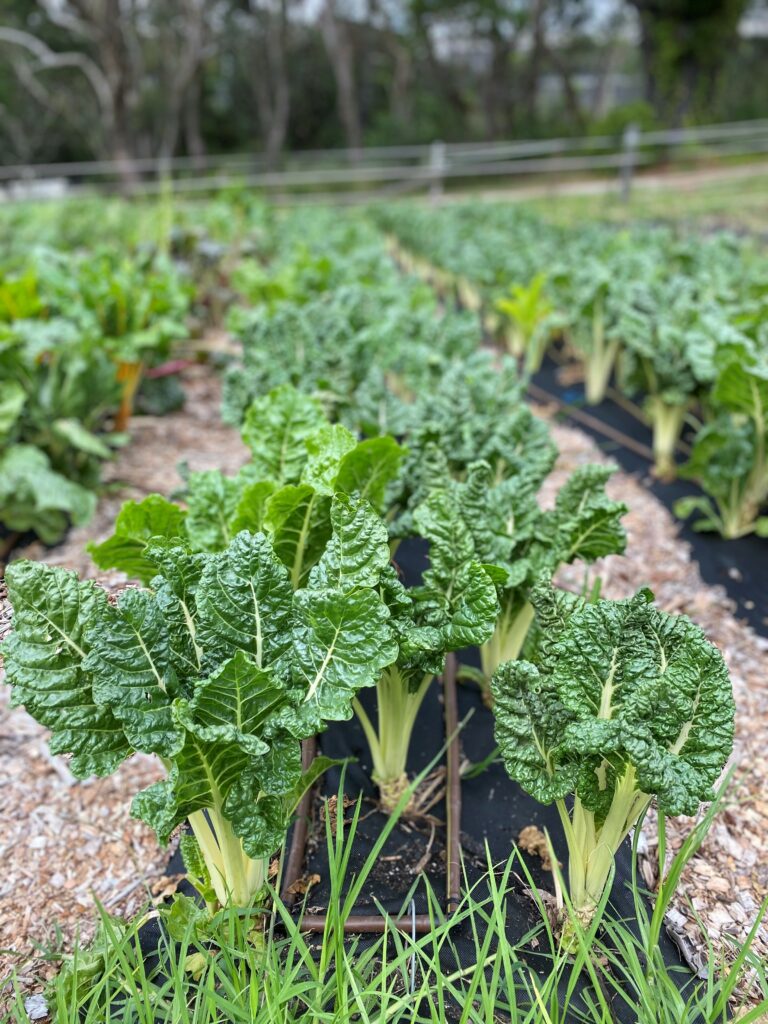 Photo: Silverbeet bound for the Co-op
Rhiannon currently runs popular workshops on producing food at her Bullaburra plot which is smaller scale and achievable for most backyard growers but she has plans to create food forests rather than focusing on annuals. "I just did a permaculture course at the Lithgow Hub and will do the teachers course also. And I'm planning food forest workshops based on the Syntropic system.
"Syntropic is a form of management that mimics natural succession to produce a diversity of food in a smaller area than would otherwise be needed in traditional agriculture and is based on using biomass to nurture and feed the system," she explains. "So, rather than adding man made fertilisers you use plants as fodder for other plants. For example, a whole row of grass to chop and pole around your banana which is right next to an avocado; the banana is not grown to produce masses of fruit, it is meant to be the biomass to feed the avocado. You chop the stem and leaves and drop it down to the base of the avo and you're creating nutrients and habitat. There's so much more to it when developing these systems but it's really important for people to know that traditional agriculture isn't the only way to grow food!"
The first Mountains Gourmet Syntropic Workshop, Introduction to Food Forestry and Syntropic Farming will be held at the end of April. "It's a full weekend of theory and practical sessions where participants will learn how to establish a food forest," Rhiannon says. "Then we'll invite everyone back to a free day later on down the track to do maintenance and see how things have grown."
So, will she be growing avocadoes and bananas in Hazo in the future? "Absolutely. We've got bananas here at the moment and some avocado trees which should start producing next year. We're going to plant more avocadoes and macadamias too. My dream is to grow plants that have adapted to the Blue Mountains environment and be able to take cuttings and sell them locally. It's a long-term investment."
And so is the Co-op's support for young farmers.
"People get inspired seeing local food for sale at the Co-op," says Maddison. "We love supporting local growers – it's a win-win for the community."
Rhiannon agrees. "The amount of texts I get from people going past on the train looking down at the patch saying: 'Is that you in the paddock? OMG, can I come volunteer?'
"It's exciting for people to know that they can feed themselves and their friends with what they've grown, foraged or bought locally. The mountains is definitely ahead of the game on that at the moment.
"It's also been good for landowners to have people on their property providing more security and company. Especially for the elderly on their own. It brings them joy and inclusion."
For more information or to book a workshop see Mountains Gourmet.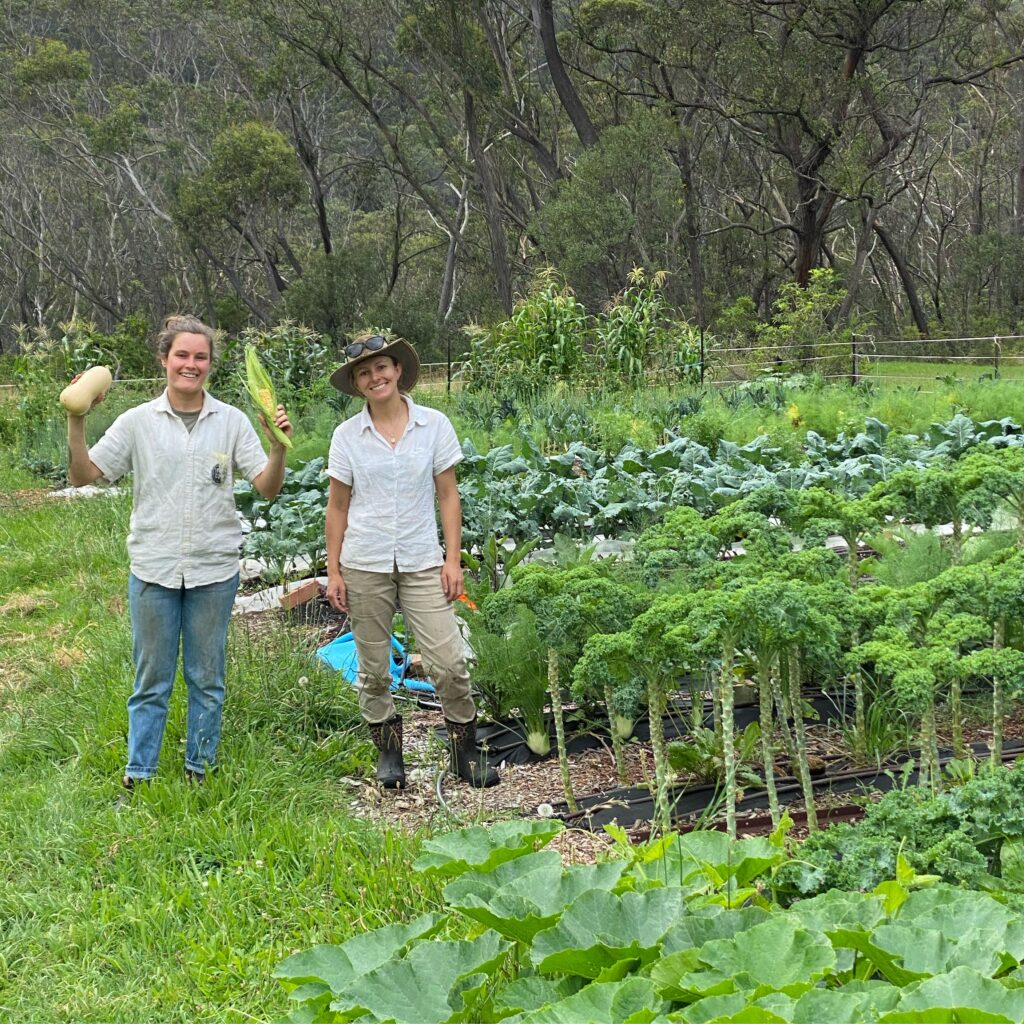 Photo: Maddison Pitt, Blue Mountains Food Co-op Fruit & Veg Coordinator, with Rhiannon Phillips, Mountains Gourmet
By Jacqueline Forster, Blue Mountains Food Co-op Marketing & Community Education Coordinator
*Dipel is based on Bacillus thuringiensis var. kurstaki, which is an insecticide derived from beneficial bacteria found in soil, on plant surfaces and also in insects. It specifically targets caterpillars and is safe for beneficial insects such as ladybirds and bees according to manufacturers Yates.