This is the Co-op calling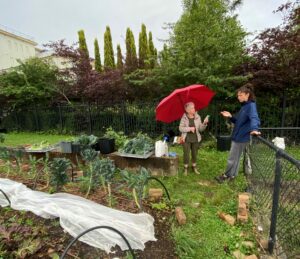 Did you know that the Co-op supports community radio station Radio Blue Mountains 89.1FM? Every Wednesday between 9 – 10am listen in to Susanne Rix's show Green Thumbs to hear all sorts of gardening and food related interviews, tips, and advice.
Here's the latest interview Susanne did with Hannah Axelson from Farm it Forward about our market garden in Katoomba. And don't forget to call into the Co-op every Monday and Thursday to sample some of the freshly harvested leafy greens, herbs and veg.
Hannah and Jacq talking to Susanne Rix (founder of the Blue Mountains Edible Garden Trail)