Win a copy of Around the Kitchen Table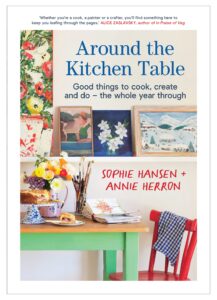 Best-selling Sophie Hansen and her artist and art teacher mum Annie Herron have teamed up – with recipes to cook, preserves to make, things to sketch, crafts for the not-crafty, and more.
Around The Kitchen Table is an invitation to pause our busy lives – even for half an hour – and cook, create or make something good every day. Written by food writer Sophie Hansen and her mum, art teacher Annie Herron, it celebrates the joy and sense of satisfaction that comes with preparing a simple meal to share, pencilling a sketch or making a jar of jam to give as a gift. Organised into seasons, each chapter is packed with inspiration and encouragement, including bright spring lunches and easy preserves, how to start and finish a watercolour painting at the beach (or anywhere!), generous picnics for summer days, the joy of Christmas baking and craft, cosy suppers, autumn sketching adventures and slow cooking and drawing games for cold winter afternoons.
Plum and almond cake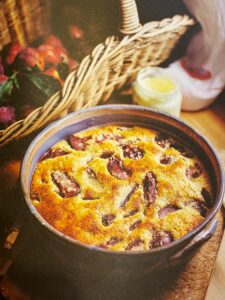 Prep time: 15 mins
Cook time: 30 mins
Serves 6–8
This quick almond cake recipe is a great base for any kind of seasonal or preserved fruit, hence why I've snuck it in here!
8–10 plums
2 eggs
½ cup (125 ml) milk
¼ cup (60 g) butter, melted
1 cup (100 g) almond meal
½ cup (110 g) caster (superfine) sugar
⅓ cup (50 g) plain (all-purpose) flour
½ tsp baking powder
½ tsp ground cinnamon
a pinch of salt
Thick (double) cream, to serve
Preheat the oven to 180°C (350°F). Grease and line a 20–24 cm (8–9½ inch) spring-form cake tin with baking paper.
Halve the plums, removing the stones, then slice them into quarters or eighths, depending on the size. Scatter the plums over the base of the cake tin.
Add the eggs, milk and melted butter to a bowl and whisk to combine.
Combine the remaining ingredients in a bowl, then pour in the egg mixture and mix until you have a smooth batter. Pour the batter over the plums and smooth the top.
Bake the cake for 30 minutes or until golden brown on top and cooked through. Serve warm, with some lovely thick cream.
Win!
To win a copy of the book simply submit your favourite easy autumn recipe to hello@bmfoodcoop.org.au. Please also include your name and phone number.
Entries open Thursday 31st March 2022 and close Friday 22 April 2022.
Extract published with permission. Around the Kitchen Table is published by Murdoch books.