Rescue me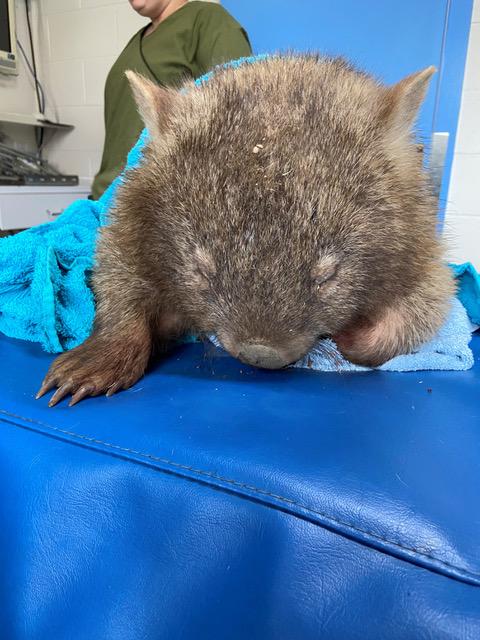 WIRES volunteer, Phoebe Donovan, has been collecting fruit and veg from the Co-op for animals injured and displaced by the recent bushfires. She took time out from her caring duties to speak with us about the important work WIRES carries out and how we can help.
How many members are in the Blue Mountains WIRES group?
Phoebe: There are around 130 paid members in the Blue Mountains group, and of these about 15-20 are active in rescuing and caring for wildlife in the Blue Mountains area. There is also a core team of about 15 concentrating on bushfire response.
Can you tell us about the food and water stations you have set up in burnt out areas of Clarence, Bell, Dargan and Blackheath?
Phoebe: WIRES BM and other fire affected branches have dedicated teams with members who have undertaken online training to be able to enter fire grounds, once the fire has passed and with permission from the fire authorities. Other members who don't have this certification are able to help with maintaining feeding/watering stations. This occurs every few days, when members are available. We take out the fruit and veg that you guys have donated, in addition to hay and pellets for the herbivores. Usually WIRES doesn't advocate feeding fruit to native wildlife, but in this instance we are using it for birds, and to attract other animals to the feeding stations.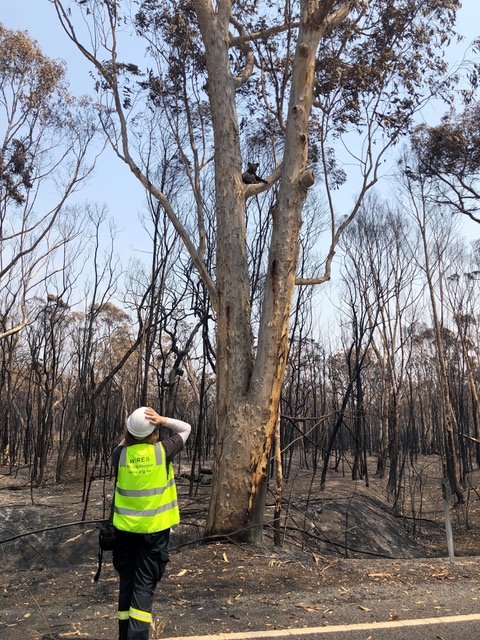 A dehydrated and hungry koala found in a burnt out area after the Hawkesbury bushfires (photo credit: WIRES)
How do you become a WIRES volunteer and what is involved?
Phoebe: We are always in need of volunteers but realistically people need to know that home-caring for wildlife requires an individual to have some dedicated space in their homes (and usually outside as well for aviaries of different sizes) and lots of time on their hands. Carers typically need to set up for the species that they care for e.g. birds, possums, macropods or reptiles and undertake special training. This requires purchasing food and equipment such as cages, feeding apparatus, heat mats, scales, capture nets, release boxes etc. The positives are that you can learn so much about rehabilitation and hands-on care of native animals, and you know that you are making a difference in individual animal's lives. If you want to join but don't have much time, you can offer to pick animals up and take them to the vet, or to other carers who may be very busy. Or you could host a release site on your property for animals.
Apart from bushfire-related injuries, for what other reasons do animals need care?
Phoebe: Being hit by cars is a common trauma that will often leave animals with broken bones and they will need to be euthanized. Dog and cat attack are common for all types of animals, especially birds and reptiles. Surprisingly, snakes often come off second best. People, please keep your beautiful cats indoors. You can provide amazing enrichment for indoor cats 🙂 Check out this amazing indoor set-up: https://youtu.be/okOVxfuSYPk
Other main reasons we see animals in care include injury/trauma or disease eg: cockatoos or lorikeets affected by beak and feather disease, wombats affected by mange, possums with stress dermatitis; window strikes (birds can get concussion and may or may not recover, or may break bones in their bodies); heat stress e.g. flying foxes suffer in extreme heat and will drop their pups and simply die in temperatures above about 42 degrees Celcius, and orphan events – this can be due to actual loss of parent, or sometimes well-meaning members of the public picking up baby birds unnecessarily (most of whom will have a short period of time spent on the ground between fledging and learning to fly).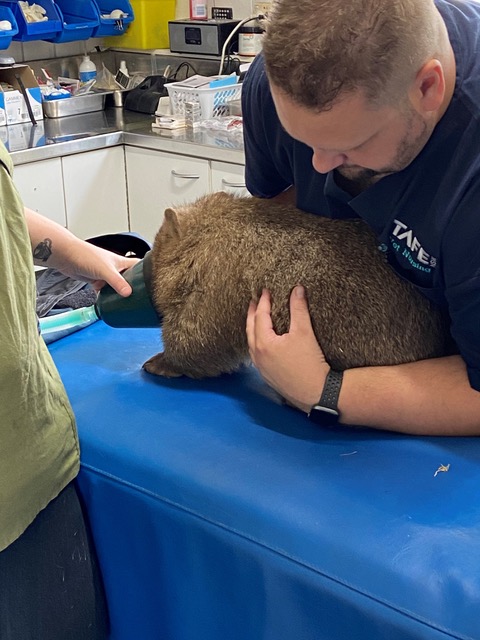 In the Blue Mountains area, a young female wombat, 'Lara' was found by the RFS in an active fire zone with injuries sustained from a falling tree. The RFS carried her out of the fire zone for collection by WIRES and she was taken straight to the North Richmond vet where x-rays showed a fracture on her upper jaw and she was also severely dehydrated. Lara is responding well in WIRES care and will be ready for release in 6 – 8 weeks.
You specialise in bird rescue and rehabilitation – can you relate a particular story of a rescue bird you've nurtured?
Phoebe: One of my favourite stories was receiving a call out to rescue a baby tawny frogmouth who had been found by a concerned member of public. The fluffy little fledging was learning to fly and had thumped into their kitchen window before falling down behind the BBQ. After a vet check, the little chick was found to be uninjured, and she was eating well and exhibiting all other normal, natural behaviours. So I waited till dusk and went back to the same location in Medlow Bath and popped the little fluff ball as high up on a branch as I could reach, then the residents and I stepped back and waited. Little tawny immediately started head weaving and making little guttural sounds, which within minutes had attracted a very concerned parent! The adult tawny appeared after having silently swooped across our very heads. Parent bird (could have been mum or dad) then disappeared to grab an insect and returned quickly to feed baby. We heard the quiet sounds change to a very noisy chugging as the little baby finally got some yummy grub. I love it that so many residents in the Blue Mountains are so connected to their local wildlife and often are able to identify individuals and their babies.
What's the most fulfilling aspect of being a WIRES carer?
Phoebe: For me, it is successfully releasing animals back into the wild. Especially reuniting baby birds with their parents. That is super dooper amazing!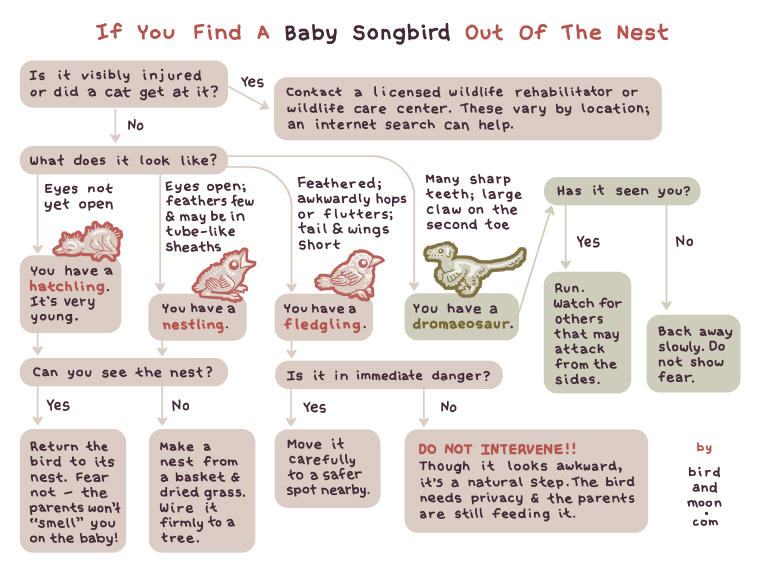 There has been a huge amount of aid flowing into fundraisers from all over the world and loads of people making pouches and nests etc. to help wildlife affected by the bushfire crisis – what is the best advice you can give to people wanting to help?
Phoebe: People in fire affected areas can help by putting out food and water stations, and keeping them replenished, until the natural food sources grow back.
WIRES has the following practical advice on how residents living near the fires zones can help wildlife during and after a bushfire.
Leave out bowls of water for animals and birds escaping fires – use shallow bowls with a few sticks or stones on one side to allow smaller animals to escape should they fall in.
Please keep cats indoors and dogs under control so that wildlife can flee safely through backyards and properties.
Keep a cardboard box and towel in the boot of your car in case you find an injured animal so you can safely contain it without putting yourself in any danger.
If the animal has been burnt, do not attempt to feed it, just wrap it loosely, ideally in a towel or cotton fabric, place it in a ventilated box with a lid and keep it in a dark, quiet place and wait for a rescuer or for transport to the nearest vet.
If you can safely take an injured animal to your nearest vet please do so, as it will require an urgent assessment. Please also call WIRES on 1300 094 737 so we can follow up with vet and take the animal into care for rehabilitation.
Please do not approach injured snakes, flying-foxes, large macropods (e.g.adult roos), adult wombats, raptors (birds of prey) or monitors (goannas) as these species must be rescued by trained specialists – please call WIRES for rescue assistance on 1300 094 737.
If you have a swimming pool in the bushfire area pleas drape something over the edge of the pool so that animals have a surface to grab hold of and climb out such as heavy duty rope or a piece of timber secured at one end to something heavy outside the pool. Pool steps can also prove a hazard as can be too high for smaller animals to get out so placing a few bricks or large stones to the side of each step will allow them to get a foothold. If possible check your pool twice daily including the skimmer box. If you do find any animal trapped call WIRES immediately on 1300 094 737 for advice.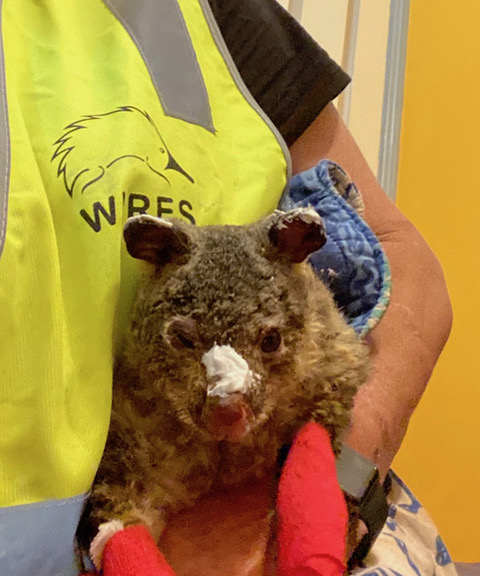 Brushtail possum rescued from Blue Mountains bushfires (photo credit: WIRES)
Fundraisers
Thank you to everyone who has donated cash in store at the Co-op. Funds will be tallied soon and split between WIRES and the NSW RFS.
Wentworth Falls Country Club is hosting a fundraising event for WIRES on the 28th February. For more information see their event listing.