What's in season and what's hot at the Co-op in July.
Fresh food news
Mid winter sees an influx of spinach, brassicas, onions and root vegies. These colourful caulis (above) are all the rage at the moment. And look out for local lemons!
Our new vegie stand is now in action. Constructed by the very talented Georgina Donovan, (who runs woodworking and spoon carving workshops at Lyttleton Stores), the new stand means more room for lots of lovely organic fruit and veg!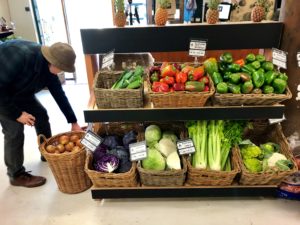 Continuing our support of Plastic-Free July don't forget we have Little Big Dairy Co milk and cream in glass bottles and locally brewed Bullabooch kombucha in recycled glass bottles. Plus a huge range of bulk foods including grains, pulses, seeds, nuts, herbs, tea, pasta, flour, olive oil, vinegar, honey and more!
In the Big Little Shop
New!
Mieco Cutlery set with knife, fork, spoon, chopsticks, straw and straw cleaner. Comes in a cute roll up pouch and the utensils are made of bamboo.
Dr Bronners Unscented soap now available in bulk!
Bokashi Mix Now in bulk.
Pine Gum Rosin in bulk  Many people have been asking for this to make their own beeswax wraps. To make wraps the ingredients are beeswax (a good seal and antibacterial), rosin (for stickiness) and jojoba (antibacterial).
Product of the month
Love Beauty Foods  Toothpowders in a range of flavours.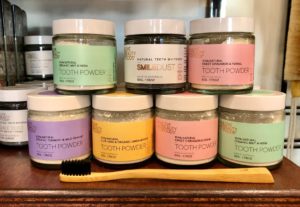 NATURAL • ORGANIC • VEGAN
Love Beauty Foods believes in a holistic approach to beauty – what you put on your skin should be just as good as what you put inside your body. We create 100% natural, organic and vegan small batch beauty products in the coastal town of Newcastle, Australia. Beauty from the inside out.
Natural Toothpowders
Our Tooth Powders are a 100% natural, preservative-free tooth paste alternative. Our formulated blend of fine food-grade Australian Bentonite and Kaolin Clay and Organic Sodium Bicarbonate gently cleans and polishes  your teeth while the anti-bacterial ingredients help promote oral health, cleaner teeth and a healthier, whiter smile whilst naturally strengthening enamel and detoxifying your mouth without the use of chemicals or added nasties. Plant power all the way! (from their website)