Recipe Cards — free and in store now!
We've teamed up with volunteer and nutrition science student Lily Ward of @lils_nutrition_kitchen to produce 6 one-bowl wonder, healthy recipe cards. All recipes are cheap and easy to make using seasonal fruit and veg. that is available at the Co-op, and all are fully in aligned with the Co-op ethos.
The full set of six are available in store now — and they're free!
Here's one for you now…
Vanilla and Honey Quinoa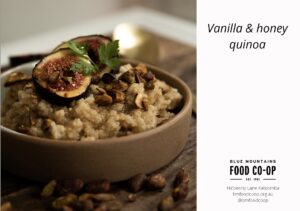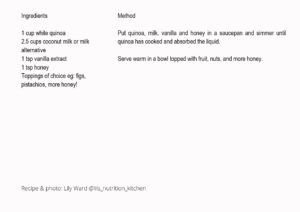 Happy cooking!
---
Recipes by Lily Ward @lils_nutrition_kitchen. Lily is a nutrition science student at Australian Catholic University.
Design and production by: Jacqueline Forster, Blue Mountains Food Co-op Marketing & Community Education Coordinator