She'll be apples
A great condiment for sweet or savoury dishes.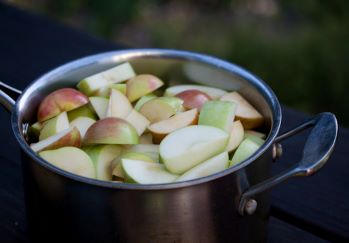 Makes approximately 2 litres of apple sauce – some for enjoying now, and some for freezing for later.
Ingredients
6 – 8 large apples
1 tsp ground cinnamon
1 cup water or apple juice
1 lemon – squeezed
1/2 cup brown sugar or maple syrup – this is optional
Method
Pick your apples.
Some people like to use only one variety of apples in their apple sauce, but others like to mix it up. I like to use different types from a couple of trees in our garden depending on what is ripening.
Clean your apples.
Before you start, it is good to clean your apples from any particles that may be on the skin. If you are using store bought apples, this method removes any wax or pesticides that may be on the skin. Buying organic at the Co-op removes that factor.
I clean them by putting them in the kitchen sink and filling the sink with water.  Add 1/2 cup of white vinegar and leave them for about 30 minutes. The vinegar loosens and even in some cases removes, any dirt, and residue that are on the apples. Give them a little brush with a cloth or kitchen brush, and rinse them in fresh water.
Chop your apples.
Cut your apples into quarters, getting as much flesh off them as possible. Use a corer if you prefer, it could make it a little quicker to avoid the seeds, and increase the amount if flesh you can get. At this point it would be good to decide if you want to leave the skins on or not. If you want to make smooth apple sauce and speed up your process, I would recommend leaving the skins on. Also, removing the skin removes nutrients held in the skin. Many people peel their apples though, and for chunky apple sauce this might be your better option.
Place apples in a saucepan.
Pop them into a saucepan that is large enough to hold them.
Add 1 cup of water.
You can simply add 1 cup of water, or you can add apple juice, or even apple cider. If you are creating an even larger amount of apple sauce, you may want to increase the liquid by a little, or a lot.
Add the juice of 1 lemon.
For a bit of zing, squeeze a lemon in at this point too.
Add 1/2 cup of brown sugar (optional).
I personally don't add the sugar, and some like to substitute sugar for maple syrup, however it does add a depth of colour, and a whole lot of delicious sweetness to your sauce!
Add 1 teaspoon of ground cinnamon.
Add 1 teaspoon of ground cinnamon. Other spices such as cloves can be added, but don't go too crazy on your first batch. 1 clove in my spiced apple sauce was enough. Most spices that go well in chai add some lovely flavour to your apple sauce. Another optional spice would be nutmeg. Apple sauce really is so versatile you can modify your spices to taste.
Stir over medium heat, cover & cook for 25 mins.
Give your apples a stir over medium heat to get all the juices and spices mixed up over your apple pieces. Cover and let them cook for 25 minutes or so. Check after 20 minutes to see if they are all soft, and gauge if you then need to give them a little more time.
Blend your apple sauce
From here you have two options for how you want to approach creating texture for your apple sauce: you can use a blender to create a delectably smooth sauce with a creamy texture, or you can use a potato masher or fork to create a more chunky sauce. I found the potato masher quite easy to quickly create a lovely chunky texture, however when I had left the skins on they didn't mash as easily and I had to remove them by hand. So if you want to make a chunky sauce, I would advise peeling the apples.
Remember to let the apple sauce cool down before using older style plastic blenders so no nasties transfer into the food from the hot plastic. Keep checking in to see if you have reached the consistency that you want, and if it is still too chunky – just keep going! The texture below is a well blended smooth and velvety texture.
Serve Up!
Now it is time to serve up your delicious apple sauce to be enjoyed. Serve it up with your morning porridge or pancakes, spoon a dollop over ice cream, or enjoy it with the well known pork chops option. Apple sauce is also popular for introducing baby to their first food as it is high in fibre and packed with vitamins.
12. Store – refrigerate and freeze your apple sauce
Re-purpose some jars bound for the recycling bin and use a funnel or spoon to fill them with apple sauce. Your apple sauce will keep in the fridge for a few days, or in the freezer for a lot longer. By filling our saucepan I made enough to eat now, store for later and also to give to friends, which was a lovely feeling.
Recipe and image by Ann Niddrie