Meet our vollie of the month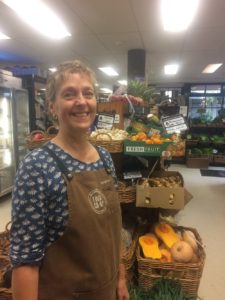 Karin is our "vollie of the month" for March 2021. We chatted with Karin to find out why she volunteers at the Co-op.
Q: How long have you been volunteering at the Co-op?
Karin: Since late 2019.
Q: What is your favourite aspect of volunteering at the Co-op?
Karin: The friendly, supportive team and common interest for sustainability in all its aspects.
Q: How did you find out about volunteering at the Co-op?
Karin: I found out about volunteering as I'm a local and shop here.  Now that I have more time available, I am happy to support this positive community hub.
Thank you for your hard work and enthusiasm Karin!
Interested in volunteering?
Volunteering at the Co-op is a great way to get more involved and shrink your shopping bills.  You'll  learn more about our products, connect with the community, get to know our staff, and hopefully have some fun! In exchange for 4 hours work you get an extra 20% discount off $250 worth of shopping.
Shop volunteers help staff members to help keep the Co-op running as smoothly as possible. On a typical shift you may spend your time filling up teas and spices, welcoming and assisting customers, watering the garden, and helping keep the shop clean and tidy.
We run volunteer training nights once a month. These evenings provide a thorough orientation to working in the shop; including an overview of volunteering, an in-depth tour and a run through of tasks you will be performing.  We also cover health and safety, infection control, and communication.
To register your interest in volunteering click here.