Volunteers are the heart and soul of the Co-op and we'd like to show our appreciation by getting to know them a little better.
Victoria Walker is our first "Vollie of the Month"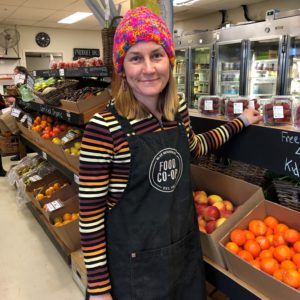 We asked Victoria a couple of questions about what she loves about volunteering and her advice for anyone considering taking the plunge:
"It's lovely to be able to contribute to this organisation – one of the best Co-operatives I have seen. It's nice to see familiar faces as you work and of course the extra discount saves $!

Volunteering is definitely worth your time and good if you find ethical shopping expensive because volunteering makes good food easy to afford."
Curious about volunteering?
Volunteering at the Co-op is a great way to get more involved and shrink your shipping bills.  You'll learn more about our products, connect with the community, get to know our staff, and hopefully have some fun! Members can volunteer for up to 4 hours a month. In exchange for 4 hours work you get an extra 20% discount off $250 worth of shopping.
Shop volunteers help staff members to help keep the Co-op running as smoothly as possible. On a typical shift; you may spend your time filling up teas and spices, welcoming and assisting customers, watering the garden, and helping keep the shop clean and tidy.
We run volunteer training nights once a month. These evenings provide a thorough orientation to working in the shop; including an overview of volunteering, an in-depth tour and a run through of tasks you will do on shift.  We also cover work, health and safety, infection control, and communication.  For upcoming dates, speak to staff in store or contact our Volunteer Coordinator at volunteers@bmfoodcoop.org.au.