Seniors Festival Discount Offer
To celebrate elders in our community the Co-op is offering all seniors the chance to shop at member prices during Seniors Festival 2021 which runs from April 13th – 24th.
If you're a senior and are curious about the Co-op and the benefits of membership come and take advantage of the usual 10% member discount during this period and see what it's all about.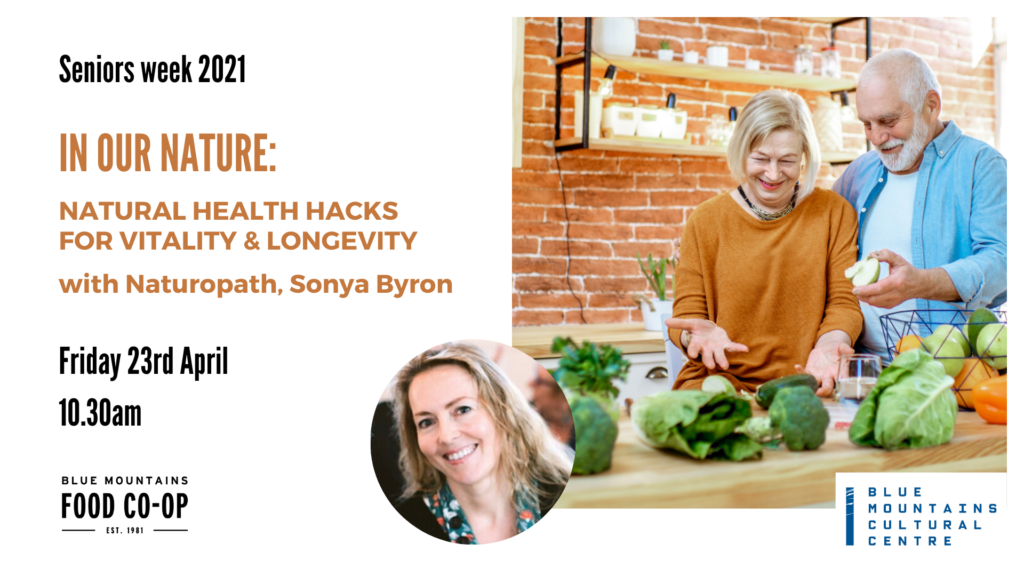 Join Naturopath, Sonya Byron for an interactive discussion on the dietary, exercise and other lifestyle hacks that promote health, vitality and longevity well into the senior years. Emphasising simple, easily accessible and inexpensive functional foods and herbs, and including Sonya's favourite healthy ageing recipes and more. All attendees will receive a take home goody bag  by the Blue Mountains Food Co-op.
Sonya is a Naturopath and Yoga teacher in clinical practice at Lower Mountains Health & Healing in Blaxland. A former organic vegetable farmer, she's passionate about empowering people to care for their own health (and save money, time and the planet in the process) by learning how to grow and preserve their own food, and how to make their own simple herbal and nutritional remedies for common health complaints. For further information, visit Sonya Byron Plant Medicine at www.sonyabyron.com.au
This event is free but tickets are limited.
NB: Tickets are subject to cancellation pending changes to Covid restrictions.