Simply scrumptious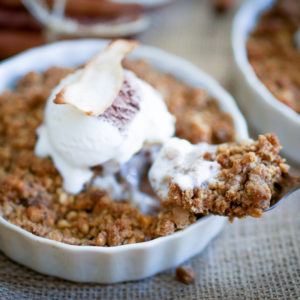 This recipe is a gorgeous, warming, wintry treat. It's paleo and vegan yet achieves that satisfying combination of textures that crumble is famous for.
Serves 12 hungry adults. Excellent heated for breakfast. Lasts at least 4 days covered in the fridge. I've kept the quantity large because yum. It's also a fabulous dish for sharing.
Serve with your favourite cream, yogurt or ice cream.
Filling
9 Granny Smith apples, peeled and thinly sliced
1/3 cup coconut sugar
1/3 cup maple syrup
1/4 cup almond meal
2-3 teaspoons ground cinnamon
2 teaspoons vanilla paste or extract
Salt for seasoning
4-6 tablespoons coconut water or water (if needed)
Coconut oil for liberal greasing
Topping
2 ½ cups pecans, chopped
1 ½ cup coconut flakes
1 cup almond meal
12 medjool dates, seeds removed
1/4 cup coconut oil
1 teaspoon ground cinnamon
1/3 cup maple syrup
Salt for seasoning
Instructions
Preheat oven to 180. Liberally grease a large baking tray (approx. 30x20cm) with coconut oil. Set aside.
In a large bowl, add all Filling ingredients: apples, coconut sugar, maple syrup, almond meal, cinnamon, and vanilla extract. Use a spatula to fold apples until they are fully coated and sugar has dissolved. Mixture should have a bit of liquid in the bottom of the bowl, if it doesn't, add some coconut water or water.
Pour filling into the prepared baking pan. Smooth out the apples gently to form a lightly packed layer. Sprinkle with a few light pinches of salt.
Use a food processor on pulse to chop the dates quite finely, scrape into a bowl.
Use the food processor on pulse to chop the pecans. Careful not to over process. You want the pecans to still have some nice chunks for a rough texture. Scrape the pecans into the bowl with the dates. Alternatively you can chop the dates and the pecans with a knife.
Add all other topping ingredients to the bowl. Using a fork, stir and fold until the topping comes together and is well combined. Use clean hands to spread the topping over the apples. Leave it rough and rustic looking. Lumpy bits will cook into the crunchy bits required for the satisfying combination of textures that crumble is famous for.
Bake for 60 minutes rotating every 20 minutes to ensure even cooking. Check regularly as even slight burning will create the unwanted bitterness of burned nuts. Small amounts of coconut water or water can be added if you think the filling isn't looking juicy enough. Add 1-2 tablespoons at a time.
The crumble is done when the topping is a deep golden brown and the juice around the filling has thickened. If the juices in the pan are still watery, bake for another 5 minutes at a time being careful not to burn the topping.
Recipe by Amy Tyson