Summer on a plate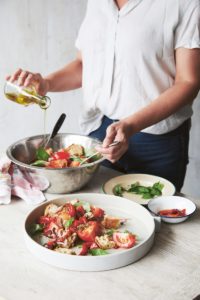 Accompanied by a few glasses of wine on a hot night, this classic Italian salad is filling enough to be a meal on its own, or serve it alongside lasagne to keep the children happy. The stale bread soaks up the dressing so that every mouthful is full of flavour.
Ingredients:
8 tomatoes, quartered
1 small red onion, very finely chopped
½ teaspoon caster (superfine) sugar
1 teaspoon salt, plus extra to serve
2 capsicums (peppers), halved
120 ml (4 fl oz) olive oil, plus extra for drizzling
2 tablespoons red wine vinegar
1 garlic clove, minced
200–300 g (7–10½ oz) stale bread torn into 5 cm (2 inch) pieces (focaccia, sourdough or a crusty white Italian loaf work best)
1 tablespoon capers, drained and rinsed, chopped
1 bunch basil, leaves picked and torn
Freshly cracked black pepper
Method:
Preheat the oven to 180°C (350°F/Gas mark 4).
Combine the tomato and onion in a bowl and sprinkle over the sugar and half the salt. Set aside at room temperature.
Place the capsicum on a baking tray, skin side up, and drizzle over 2 tablespoons of the olive oil. Roast for 30–45 minutes until soft and blistered, then remove from the oven and allow to cool. Remove the skin, slice the capsicum into strips and set aside.
In a small bowl, combine the red wine vinegar, garlic and remaining olive oil and salt and toss through the bread.
Strain the tomato and onion very well, then place in a large salad bowl. Add all the remaining ingredients and toss gently to combine. Drizzle with a little extra olive oil, season with salt and pepper and serve immediately.
Serves 4–6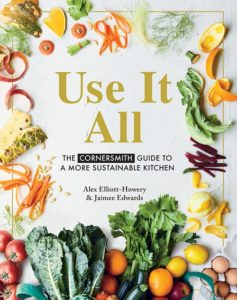 Images and text from Use It All by Alex Elliott-Howery and Jaimee Edwards, photography by Cath Muscat. Murdoch Books RRP $39.99.
Read a review of Use it All here.