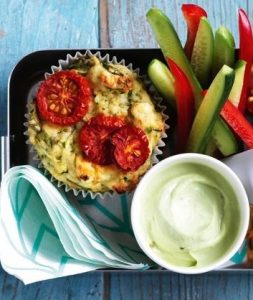 These simple yummy muffins make a nourishing protein packed addition to lunchboxes. You can make lots on the weekend and freeze them to use during the week.
Serves: Makes 12
Ingredients
2 tblspn coconut, olive oil or ghee (plus extra for greasing)
1 leek (white part) or brown onion finely chopped
1 clove garlic, crushed
1 handful finely chopped parsley
1 cup chopped mushrooms
120g spinach or baby spinach leaves
6 eggs
sea salt and black pepper to season
6 cherry tomatoes halved
3 tblspns crumbled fetta cheese (optional)
paprika to garnish
Method
Preheat oven to 180C. Grease a 12 hole muffin tin with your choice of fat.
Heat the oil or fat in a heavy based frying pan and sauté leek or onion over medium heat for 5 mins.
Next add the mushrooms and continue to sauté until softened, approx. 5 mins.
Add the garlic and cook for another minute, then remove from heat and set aside.
Wash the spinach and parsley and add them to the pan on medium heat with the water on them from washing.
Stir until wilted. Remove from heat and add to a food processor.
Pulse till coarsely chopped, remove then squeeze out excess moisture.
Return to food processor with the mushroom and onion mix and pulse again till roughly chopped.
Set aside. Stir in feta cheese if using.
Crack eggs into a large bowl and whisk until smooth, season with salt and pepper and stir in vegetable mixture till combined well.
Divide the mixture evenly between the muffin holes and top with half a cherry tomato.
Sprinkle with paprika.
Bake for 15-20 mins in preheated oven until the muffins have risen and a skewer inserted into the centre of the muffin comes out clean.
Let the muffins cool for a few minutes before turning onto a wire rack to finish cooling.
Store in an airtight container in the fridge or wrap and freeze individually.
Photo from taste.com.au