Winter warmer
Nourishing and warming this soup will fortify you in the cooler months.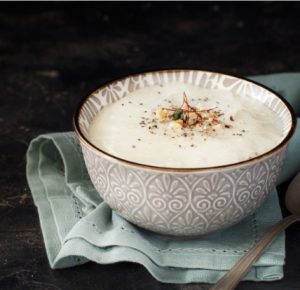 Serves 4-6
Ingredients:
5 cups cauliflower flourettes
2 onions
1 Tblsp sesame oil
1 tsp grated ginger
1 Tblsp Dijon mustard
½ tsp mace
1 tsp mustard seeds
1 large pinch sea salt
1 6cm strip kombu or wakame seaweed
1 Tblsp chickpea miso
water or vegetable stock
Method:
Slice onion into fine crescents. Heat sesame oil over medium heat in a large heavy based pot.  Sauté onions till clear and sweet smelling then add sea salt, mustard, grated ginger and spices. Continue sautéing to release flavours. Add cauliflower and sauté more to coat cauliflower with flavour infused oil. Add a tiny splash of water if pot becomes too dry and vegetables start to stick and burn. Add stock or water till vegetables are just covered. Add kombu. Cover and bring to a boil. Reduce heat and simmer gently till cauliflower is soft. Puree the soup. Dissolve miso in a little water and add to soup. Heat gently for 5 minutes not allowing soup to boil.
By Danielle O'Donoghue