Irrigation 101
Steve Fleischmann shares his tips for waterwise spring gardening.
The cooler weather seems to be behind us as the days get warmer and I'm writing this without the heater on! However, it is easy to be fooled and plant out frost sensitive edibles, then lose the lot when we get a late frost or it snows in October.
If you haven't done it yet, order your seeds for summer – beans, pumpkins, tomatoes, corn, zucchini, cucumber – and start planting small amounts regularly. Your gardening life is about to get really, really busy. The Co-op has a fantastic selection of organic seeds, (and we've just received an order of over 700 new packets!) so check them out!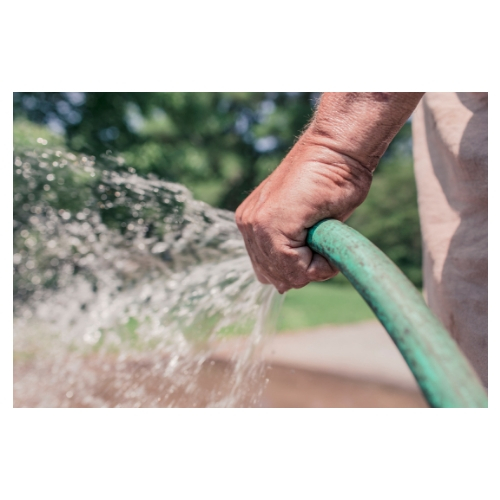 Herbs & salad veg
Something to consider is planting out a lot of herbs – I'm talking flat leaved parsley, oregano, all the basils and other soft leaved herbs – and use them regularly in your cooking. If you think about it, you would probably use oregano and parsley a lot more than you use corn, so plant in a manner that allows you to eat these herbs plentifully. The flavours of handfuls of fresh oregano leaves, parsley or basil in a salad are the things that make me go back into the garden over and over again.
Likewise, pea shoots are a delicious addition to a salad. Plant three seeds to a hole and, once the plants get to over 30 cm tall, start nipping off the growing tips and using them in salads. Their flowers are also edible and delicious.
Drought-proofing your garden
One of the things I have been thinking about a lot is climate change – the long dry spells we are experiencing are playing havoc with soils, flowering times and plants' ability to flower among a host of other subtle and not so subtle effects. For example, my Echinacea barely flowered last season and I suspect it was a mix of low precipitation and changes in soil structure due to heat and lack of moisture.
So, what to do? It's a really, really big prime-ministerial question. And one with no easy or simple answers, but there are a few things we can do in the garden to mitigate problems. Firstly, massively increase the volume of organic matter in and on your soil. Organic matter can be compost, grass clippings, well-rotted animal manure, or weed-free mulch. Organic matter stores water where it is needed for plant growth and provides both food and habitat for the micro- and macro-organisms that are part of soil biodiversity. The sandy solids we have in the mountains seem to use up organic matter in a season without a lot of effort, so it pays to think actively about where you will get the volumes you will need (without spending a lot of money).
Additionally, it is worthwhile adding some agricultural clay or volcanic dust to your compost or soils. These have the benefit of helping to improve soil structure, preserve water and adding micro-nutrients.
Install drip irrigation and a timer. Pretty much a no-brainer. It delivers water where it is needed and at rates that are a lot more efficient than overhead spraying. Look for irrigation systems that are simple and do not have a lot of bits and pieces – the more complex the system the easier it is to break. I tend to use what is called "in-line" drippers, as they are simply pipes with holes that regulate the outflow. Installing is a bit of a job, but well worth it.
Finally, research the varieties you are planting – look for those that are proven heat lovers and have low water requirements, and save the more sensitive plantings for spring and autumn.