Potent brew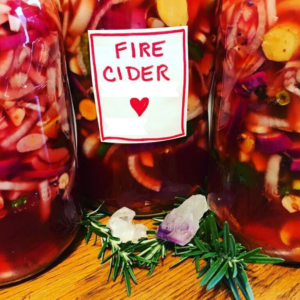 Now that the winter chill has arrived and a few colds and coughs have started to appear in clinic, it's the perfect time to share a Fire Cider recipe. Fire Cider, developed by legendary US herbalist Rosemary Gladstar, is used to ward off winter ills. This version is based on Rosemary's original recipe.
Ingredients
1 cup brown onion, minced
1/2 cup horseradish, grated
1/2 cup garlic, minced
1/4 cup ginger, grated
1/2 tsp cayenne powder
2 Tbsp dried thyme
2 tsp whole back peppercorns
1/2 lemon, sliced into rounds
1/4 cup raw local honey
3 cups raw, unfiltered apple cider vinegar.
Method
Add the onions, horseradish, garlic, ginger, cayenne, thyme, peppercorns and lemon to a 1 litre jar.
Add the honey and then the vinegar, covering all the ingredients. Stir well, ensuring there are no air bubbles.
Cover and let sit for 2-4 weeks, shaking well once per day.
Strain into a jar, refrigerate, and use within one year.
Dosage
Adults can take 1-3 tbsp per day as a preventative, and 1 tbsp per hour when you're coming down with something.
In addition to colds and coughs, try fire cider for nasal congestion, headaches, and cold hands and feet!
Makes a great addition to a salad dressing as well.
Variations
Preserved horseradish, ginger and garlic work well if you don't have fresh on hand.
I also like to add additional herbs and spices, such as turmeric, cardamom, cinnamon, chilli flakes and rosemary.
Recipe by Sonya Byron, Sonya Byron Plant Medicine