Spice it up
Here's a basic dukkah recipe that over time you're sure to adapt to your own tastes and seasons.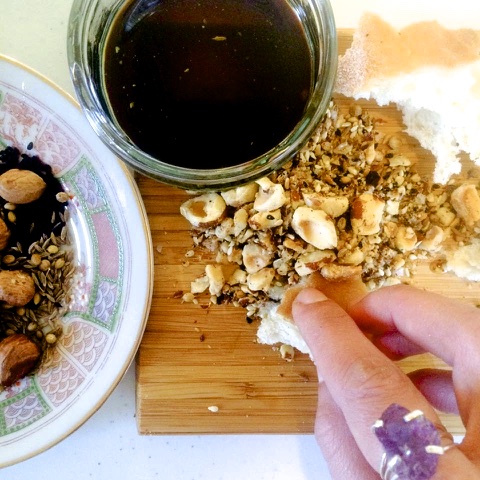 Ingredients
1 cup hazelnuts
1 teaspoon sesame seeds
1 teaspoon whole coriander seeds
1 teaspoon nigella seeds
1 teaspoon sea salt
Method
Lightly oven roast your hazelnuts (or any nut of choice), taking care to notice the aroma of the nuts as they roast, when they are fragrant and the skins start pulling away slightly they're ready. Around 12 minutes at 200 degrees Celsius should do it.
Remove hazelnuts from oven and immediately wrap in a tea towel. After about five minutes start rubbing the hazelnuts through the tea towel vigorously to remove as much of the skin as is practicable. Roughly pulse hazelnuts in a blender, taking care not to over process as you want your hazelnuts in delectable chunks.
Using a heavy bottomed frying pan (no oil) lightly toast your sesame seeds until golden – take care to turn sesame seeds constantly as they will burn easily. Add nigella, cumin and coriander seeds and continue to lightly toast until fragrant, then add hazelnuts to pan to warm through.
Remove from heat and transfer to a bowl, immediately adding flakey salt while still hot – this helps your salt to stick and not settle to the bottom of your dukkah mix.
Add salt to taste. Will keep in an airtight container away from light for months – but flavour is best when eaten freshly made.
VARIATION
I recently added crumbled, roasted crispy Kale to this mix – super yummy, but we ensured we ate the lot within a day as roasted kale looses it's crunch pretty quickly.
By Iman of Nourishmii