Thai-style beef rendang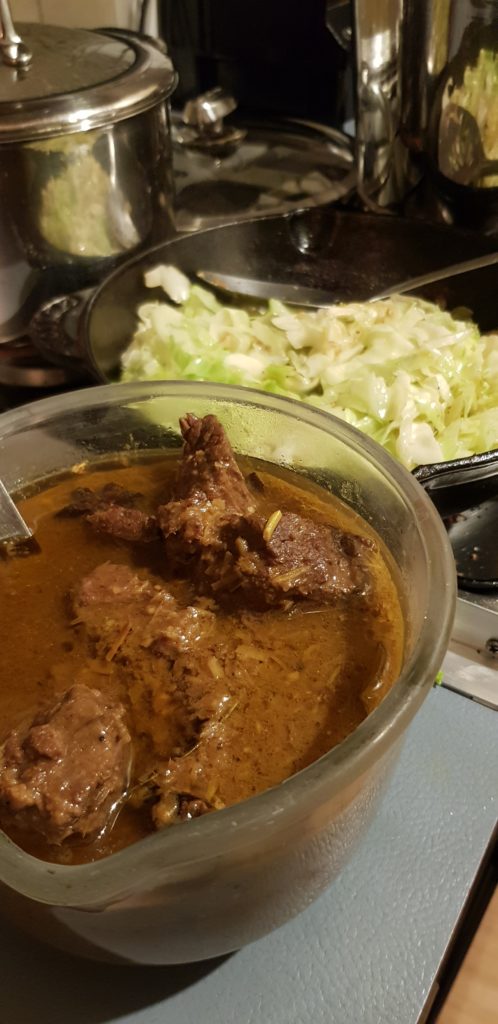 Known as the "king of curries", this aromatic, rich and hearty beef rendang will warm you from the inside.
Ingredients
Spice Paste
1 diced onion
5 cloves garlic
A 3cm knob of ginger, peeled and grated
2 lemongrass stalks, white part only, bruised*
1.5 tsp ground turmeric or grated fresh turmeric
1.5 tsp ground cumin
1 tsp garam masala
3 red chillies, chopped (optional)
2 tbsp coconut or peanut oil
Curry
700 grams chuck steak or other type of slow cooking beef, cut into large chunks
2 tbsp coconut or peanut oil
1.5 can coconut cream
1 tbsp fish sauce
2 tbsp grated palm sugar or coconut sugar
1 lemongrass stalk, white part only, bruised*
1 cinnamon quill
5 cloves
5 star anise
3 cracked cardamom pods
6 Makrut or Thai lime leaves
Method
Blend all spice paste mix ingredients.
Fry off the paste in coconut or peanut oil for a few minutes then add the beef and brown.
When the beef is browned add the coconut cream, fish sauce and palm sugar.
Add lemongrass, a cinnamon quill, cloves, star anise, cardamom pods and Makrut lime leaves. Cover and cook on a very low simmer for 1 ½ – 2 hours or until meat is tender. If some more liquid is required for this slow cooking time, add some water or beef stock. Once meat is tender, remove lid and cook for a further 15 minutes until the sauce has reduced and thickened.
Serve with heaps of coriander and steamed rice.
*Bruising the lemongrass helps release the flavour. To bruise, bash lemongrass with the back of a knife
Serves 6