New store manager
We'd like to give a warm Co-op welcome to our new store manager, Julie Kirkham. Here's a quick five minute Q&A with her.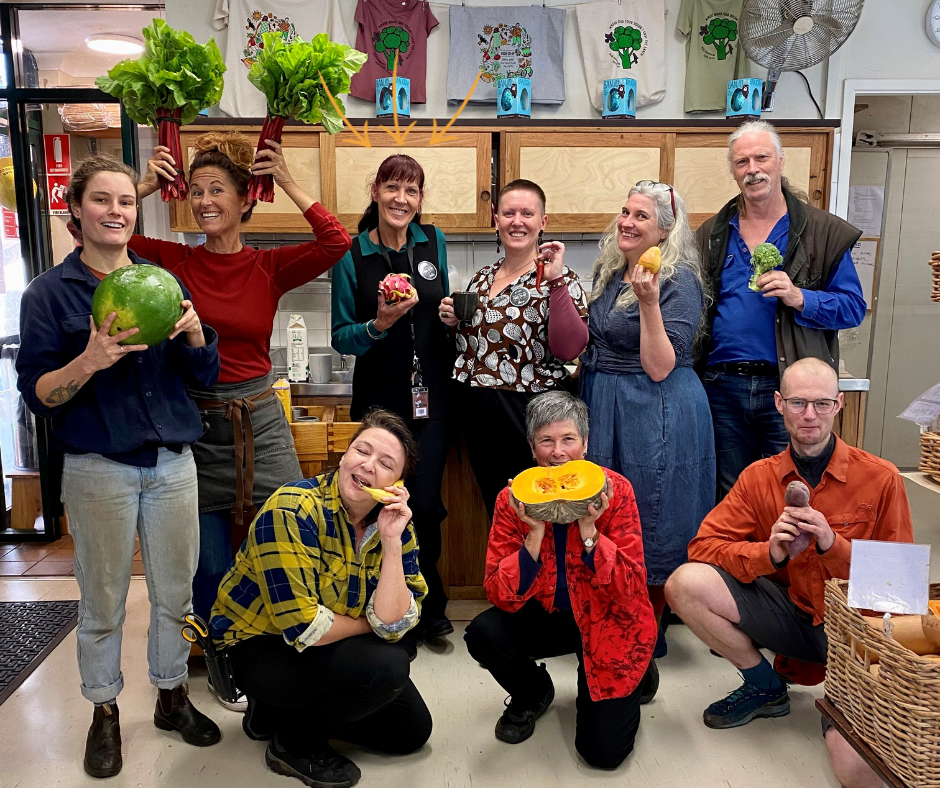 L-R: (Back row) Maddison (Fruit & Veg Coordinator), Vanessa, Julie (Store Manager), Amy (Administration Manager), Alison (Big Little Shop Stock Coordinator), Mike (Stock Coordinator), (Kneeling) Rachel, Maeve, Calem.
What is your background and what skills do you bring to the Co-op?
I worked through Covid lockdowns as a Co-ordinator for Bunnings and also for Sykee doing physc. social work with clients suffering poor mental health. I have a counselling degree. Prior to that I was a Centre Manager for YMCA Bankstown; Facilities Manager at Lion (Dairy Farmers); Administration/Facilities Manager at Goodman Fielder; Manager of Red Ribbon Gifts – Warehouse, Retail, Shopping Bus Tours and Gift Hampers; Lived and worked on a plantation for over 10 years growing bananas, mangoes, apples and a huge variety of vegetables; Worked at Carnarvon Growers Co-op (WA); Finance Officer for ANZ 10+years; and danced overseas in Japan! I have a Teachers Degree in Jazz, Tap, Ballet & Acrobatics. (Phew!)
Can you describe your personality in a sentence?
A friendly outlook, positive mindset, and young at heart.
What is your favourite food, recipe, or go-to dinner?
I love authentic Chinese food, mainly because it never tastes the same when I attempt to cook it myself.
Tell us a little about your family?
I have four amazing children; two boys and two girls. My oldest is 26 years and the youngest is 16 years. We also have a cute little dog, called "Milly".
What do you love about the Blue Mountains?
Everything! The people and their community spirit, beautiful fresh air, variety of bush walking tracks, and generally the beautiful sights.
Thank you Julie we hope you also love working at the Co-op!