Fresh or dried fruit – what's best for you?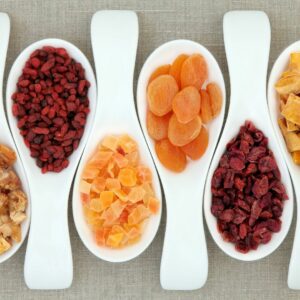 Dried fruit is a popular snack food, and is added to everything from breakfast mueslis to Christmas cakes. It's commonly promoted as a natural alternative to sweet treats, but is it a healthy addition to your diet? Naturopath, Sonya Byron takes a look at the healthiest dried fruit options.
In general, dried fruit is rich in fibre, vitamins, minerals and antioxidants (especially polyphenols), but is also high in sugars, carbohydrates, and kilojoules. Because dried fruit is smaller and more concentrated than fresh, whole fruit, it's easier to overeat. For this reason, dried fruit is best enjoyed in moderation as part of a healthy diet. A 30 gram serve or approximately two tablespoons per day is enough for most people. More may be appropriate for some, however, especially if they have a smaller appetite/have difficulty gaining or maintaining their weight, or are an endurance athlete, for example.
Many commercially available dried fruits have added sugars, fruit juice concentrates, and/or preservatives, such as sulfites. These increase the kilojoule content of the fruit and can promote allergic reactions and other symptoms in susceptible people. Choose from among the natural, organic dried fruit options available at the Co-op.
Different dried fruits offer particular health benefits. Good options to try include:
Dried apricots provide a diversity of minerals, including calcium, magnesium, iron and potassium, and are a good source of the antioxidant nutrients beta-carotene and vitamin E
Dried goji berries are rich in the antioxidants beta-carotene and vitamin C, the mineral iron, and amino acids. Often promoted as a "superfood", they've been popular in the TCM (Traditional Chinese Medicine) tradition for thousands of years, in which they're promoted as an anti-aging tonic. This traditional use is increasingly being validated by modern science, with studies suggesting goji berries may contribute to cardiometabolic disease prevention, and improvements in immune function and visual health.
Prunes (dried plums) are especially rich in soluble and insoluble dietary fibres. These support the health and function of the digestive system by providing a source of fuel for the healthy bacteria in the bowel, and by promoting bowel regularity. Prunes even contain a sugar alcohol called sorbitol that exerts a strong laxative effect in some people. One recent study indicated that prunes are a more effective remedy for constipation than are psyllium husks.
Co-op DIY fruit muesli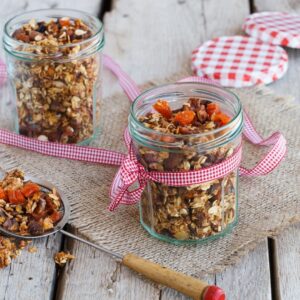 Make your own fruity breakfast treat that's also good for you.
Basic ingredients to combine for a batch:
5 cups rolled oats (toasted or untoasted)
1 cup mixed nuts & seeds – why not try flaked almonds and pepitas
1 cup dried fruit including chopped dried apricots, goji berries and chopped dried prunes
Try substituting rolled oats with other grains such as: rice flakes/rolled rice or puffed rice, rolled rye, rolled barley, puffed spelt, puffed millet, puffed amaranth, puffed buckwheat, and quinoa flakes and experiment with adding flaked or shredded coconut.
To serve: Eat as is with your choice of milk or milk substitute or try overnight muesli: 3/4 fill a jar with muesli, top with some fruit if you like, and cover with milk. Seal the jar and place in the fridge overnight. Give it a stir  before enjoying with a little extra milk if needed. NB: some flakes or puffs may not be suitable for overnight muesli.