So long and thanks for the memories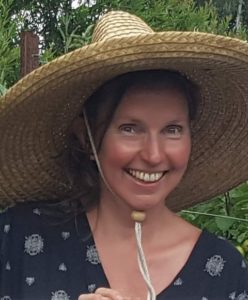 It is with great sadness and much warmth that we farewell Halin after 24 years of service to the Co-op. 
In her own words
Dear most wonderful Co-op community,
After 24 years working at the Co-op, including the last 10 years in the drivers seat as manager I've decided to call it a day and am leaving my role at the Co-op.
It's time for me to take a terrifying but exciting leap into the void and, after taking some time out to play in my garden, count my blessings, reassess my priorities and rejunvenate, see what the next part of life will bring.
I'm so grateful to have had the opportunity to hone my skills and work with such a passionate and committed community of members who have sustained the Co-op for so long. Without you as shoppers, suppliers, volunteers and directors, the Co-op and all that it brings would not exist. We have all been so lucky to have the Co-op at our doorstep nourishing and sustaining the community for the last 40 years. And I look forward to seeing how the next organic, community grown, hand crafted, recycled iteration of the Co-op develops.
I'll be opening my garden again at next year's Edible Garden Trail in the first weekend in March, lockdowns willing, so if you have the time and inclination, call by for a looksy and say hi. To be honest, I'm hoping that the next part of my life will involve a lot more talking to people about plants and growing things, so I'm shamelessly open to job opportunities where I can bring my enthusiasm for growing and making to help inspire a sense of possibility in others.
It's been fabulous to work with great food, and for an organisation that values caring for people and for the planet, but it's the humour and the warm and often quirky connections with everyone that I will miss the most. So I really hope that I will see you out there in the world sometime for a laugh and maybe a hug when that's allowed again or just a little hello while I'm shopping at the Co-op.
Much love and gratitude
Halin
A fond farewell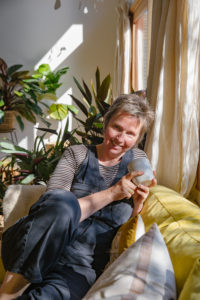 Photo Maja Baska
24 years is a long time in anyone's book… it's long enough for a child to grow into an adult, for an adult to become a wiser and clearer version of themselves, and for a volunteer-run Co-op to go from being a little shop that's open part-time to a flourishing business with two stores in the centre of town, open seven days a week. Our manager, Halin, joined the Co-op staff 24 years ago when we were still located at what is now the ALDI site, and she has been a key character in the Co-op's story ever since. But like all good protagonists, Halin has been asking the big questions and she is ready to write the next chapter in her own adventure. So, after 24 years as a worker and more recently, our manager, our much-loved heroine is ready to hang up her pinny, put down the policies, and return to our story in the much less arduous role of customer.
Halin's departure heralds a significant change in our daily landscape, she has been an integral part of the Co-op's operations and growth and on behalf of our members, staff, directors, and volunteers, I thank her from the bottom of my heart for the stamina, creativity, tolerance, lateral thinking, and joie de vivre that she has brought to her roles at the Co-op.
Halin has played a guiding role through some challenging periods and extraordinary growth. At times, meeting all the requirements of her role has been a near-impossible task and she has met this challenge with the full force of her determination and creativity.
Halin, we hope this new path affords you more time to tend to your garden, see friends when you fancy, drink cups of tea while they're still hot, and to stop for those heavenly moments when the loveliest thing to do is… nothing. You have our deep gratitude and respect, and we look forward to seeing you in the shop with a basket on your arm soon.
Georgia
Chair, BMFC
The position of Store Manager will be advertised shortly on our Positions Vacant page.