An ode to mountain women
Brigitte Grant's beautiful new book celebrates one hundred women, of all ages and walks of life, who live in and around the Blue Mountains. It is not about their life story. Instead, it's about the short, captivating essays written by each them. Each story is accompanied by a portrait, taken by Brigitte Grant, a professional photographer who also lives and works in the beautiful Blue Mountains.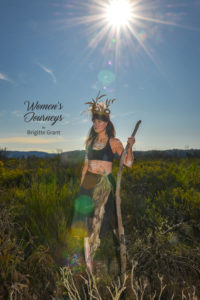 Jo Clancy (pictured above) from Wagana Dancers writes in the book: "I make dance in connection with the beautiful, eclectic community of artists, families and people who also live in the Mountains. It's home. It's where I belong."
We asked Brigitte a few questions about her body of work.
What inspired you to write the book?
Brigitte: I've always photographed people with different backgrounds at various events around the mountains and that led me to this…. meeting people/women of all walks of life around the mountains. I wanted to know what made them come to move here.
The book has been a work in progress for the past 3-4 years really. I slowly got my act together (end of 2019), then the bushfires hit the mountains.  I felt somehow that maybe it was not the right time yet. Then Covid happened.  I nearly gave it all up and then thought that maybe I should still do it as I felt that somehow we all needed something positive to look forward to. Covid is some ways, helped to make me think outside the square.  Finding ways to reach out to people and yet not being able to do so physically because of the virus and lockdowns.
Is there a common theme throughout the book?
Brigitte: Everyone had a different story which makes this book so interesting and so unique to read but one thing that was often mentioned is that people loved the quietness, the beauty and the community feel of living in the Blue Mountains. These 100 women were women that I got to know mostly through my photography. Of course SO many more I wanted to invite but being a self-published/self-funded very first project, I felt that my first 100 would be quite a big job and I wanted to keep the cost of the book at a reasonable price.
$5 from each book sold will be donated to Blue Mountains Women's Health and Resource Centre. All books ordered online will be signed by Brigitte.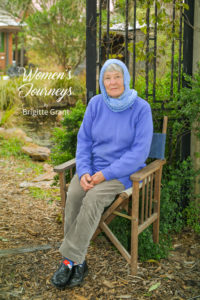 The book is also available from The Little Lost Bookshop – right next door to the Co-op! This is what they had to say:
If you've seen a beautiful photo of a local woman on social media, chances are it was taken by amazing Medlow Bath photographer, Brigitte Grant. Her new book, Women's Journeys, features striking portraits of one hundred inspiring local women including  Rosemary Morrow, legendary permaculture educator; Jenny Boyall, Principal of Katoomba High; and Emily Cooper, Dance and Drum Teacher at Hands, Heart and Feet. Everyone in the Mountains knows and loves at least one of these women so this is a perfect gift for anyone you need to shop for!