Community Service
Volunteering at the Co-op takes many shapes and forms. One way you can be involved in the largest food co-op in Australia is to join the Board of Directors.
Long-time member, Narelle Wilson, has been a volunteer Board member for several years. We asked her what she likes about volunteering at the Co-op. (And yes, that is a picture of Narelle with one of her pet pigs.)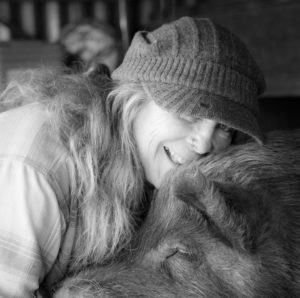 Q: How long have you been volunteering at the Co-op?
Narelle: I first volunteered as a Board member at the Co-op in 1997 for a couple of years and rejoined the Board again in 2017.
Q: What's your favourite aspect of the Co-op?
Narelle: For me, the Co-op helps to minimise my packaging, make sound purchasing decisions by sourcing local, sustainable, socially and environmentally focused products, and support our community in the form of discounts, donations and networking.
Q: What is your work background?
Narelle: After giving up a 15-year career in a polluting industry, due to illness (which included owning my own business), I studied accounting and in 2008 was invited by the Co-op Board to work on the accounts, a position I still hold today. I have volunteered in various capacities and organisations on and off for over 30 years, ranging from secretary of a local Chamber of Commerce, fundraising for charity, treasurer of a local sports club, community gardening, in First Nations' communities, at the Co-op, and most recently taking chickens to Anita Villa for the residents to engage with.
Q: What have you learnt as a volunteer at the Co-op?
Narelle: What a wonderful and diverse community we live in.
Q: What's your favourite Co-op food?
Narelle: Bulk foods that I can bring my own containers to fill.
Q: What would you say to someone wanting to volunteer at the Coop?
Narelle: I'd like to reach out to all approx. 2,500 members of the Co-op. Did you know there's 26+ staff members, seven volunteer Board members and 124 households that volunteer, and are busy caring for all aspects of the Co-op? Having been a part of this, I have seen so many ways to volunteer for the Co-op, not only in the shop, so please contact hello@bmfoodcoop.org.au if you have a skill you would like to share that the Co-op may be able to use in the future. For instance, we are looking for someone with a financial background to become the Co-op's treasurer, are you that person or do you know someone that is?
Part of the Board's role is planning. Over the past year, among other responsibilities, the Board has looked at our changing world, and considered past staff and member surveys to plan what the next five plus years might look like. The Board is now able to invite staff to help develop the plan and would like to include all members via online surveys, so the whole Co-op community has a voice in our future.
So, if volunteering in the shop isn't your thing, please volunteer your time and provide the Co-op with your thoughts when the Co-op reaches out to you, the Board really appreciates it.
And we appreciate all you do for the Co-op Narelle!
To find out more about volunteering on the Co-op Board click here.
For general volunteering information or to book a training session click here.