Kindred Connections
When everything feels a bit topsy-turvy, make art!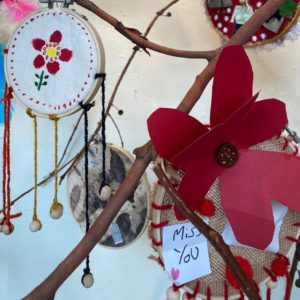 Kindred Connections is a community art project that links families together in art making. The project was conceived during lockdown as a way to help children and families feel connected and reflect on their strength and resilience while in isolation.
The Gateway Family Services team – Sophie Corbett (Team Leader), Sally Grant (Art Therapist) and Kathie O'Conner (Play Therapist) wanted to remain connected with families through alternative methods other than Zooming! We witnessed the resilience our community holds and you are able to see this yourselves in this art installation. We were privileged to be able to do this alongside Aunty Marie Clegg, senior Wiradjuri woman who reminded us that laughter and taking joy in the simple things are important for maintaining good mental health in trying times.
The process of art making helped some children makes sense of the pandemic. Phoenix, aged 4, wanted to draw the virus for his art work. This is what he said about his drawing: "It starts here and moves very fast in circles, it jumps on people to make them sick, then the people move around, that's how it gets everywhere."
For others it helped them focus on the positive aspects of the changes in their lives.
"We really enjoyed being part of this art project! It was a lot of fun. Our hoop shows a few of the things we enjoyed doing together during Covid isolation which was baking cupcakes, sewing and making pom poms." Kira and Hollie.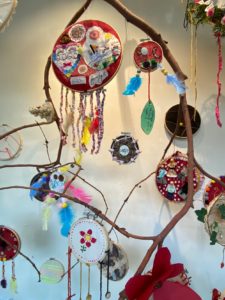 "I felt the strangeness of an altered world and life. Our garden was our place to be…we breathed, slowed down, connected to nature and spent time together. Less rushing, deadlines and agendas…" Pauline and family.
Gateway Family Services would like to thank the Blue Mountains City Council for the grant which enabled this to happen.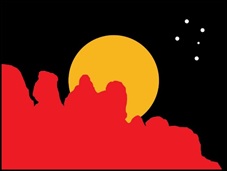 Strength in Isolation
I understand how hard isolation can be away from family and friends but for me I found some comfort, so I hope this will help others.
It gave me the time and opportunity to sit and remember so many wonderful joys from my childhood because as we get older those memories fade.
Remembering laying in Mum and Dad's backyard with my friend watching clouds floating by and seeing all the different animals in them like kangaroos, birds, wallabies and so many others. And how amazed we were climbing trees, swinging on Mum's clothesline and my Dad and I eating chocolate crackles. Such beautiful memories. And when I became a mum, the fun I had with my children when they were little, the games we played and reading to them at night.
These memories I had forgotten.
But this time in isolation has given me that time to laugh like a child again and remember what it was like to have fun and to watch a silly movie and really see how funny it is because as life becomes so serious and we forget how to daydream, to reflect on the past and to remember that little child inside all of us.
I'm not saying this is not a serious time with Covid-19 but learn to love yourself, appreciate your friends, old and new, never take anything for granted and always tell your family how much you love them but love yourself and take time to Remember.
 Aunty Marie Clegg, Wiradjuri Elder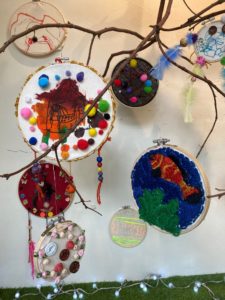 The exhibition runs until the end of January 2021.