Hardworking and happy to help
Yuyu started volunteering at the Co-op in January 2020 when she learnt about it from the membership form. Her favourite aspect of volunteering is feeling like part of the team while also having the autonomy of a vollie. The practising nurse loves to meet new people and share her knowledge of different foods. Yuyu says since starting to volunteer at the Co-op she's learnt how to observe when a customer needs help and lend a hand. Her favourite food is all things veg and her advice to people wanting to give volunteering a go is: "Just do it! It's so worthwhile." Thanks Yuyu!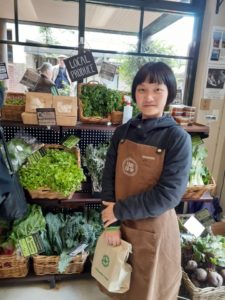 Did you know?
In the 2019/20 financial year 124 households volunteered 1770 hours at the Co-op, an average of 147 hours per month.
If you'd like to learn more about volunteering at the Co-op check out our Volunteering page where you can register for training and existing vollies can book a shift.