Cooking for community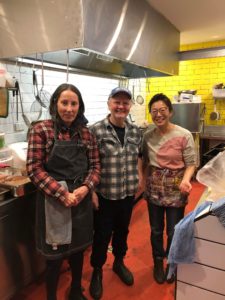 Pictured: Robyn Bennett Healy, John Healy and one of the awesome volunteers cooking for community at Plant-Based Wholefoods
When Robyn Bennett Healy and John Healy from Plant-Based Wholefoods in Katoomba were forced to shut their doors due to the global pandemic they decided to help out rather than bail out.
Robyn, John and chef Asako now put their disused kitchen to good use cooking up a vegan storm every Wednesday for the Salvos. "We saw a need in the community when Junction 142 closed and wanted to help," says Robyn.
"The Salvation Army are making food hampers for people that are sick, self isolating or experiencing financial hardship due to COVID-19," she explains. "They've also helped travellers who were stranded in the mountains and couldn't access government funding. We thought people could use some nutritious cooked meals too so we package them up for the Salvos to freeze and distribute."
Together, with a group of dedicated volunteers, the cafe owners use rescued food from the Co-op and local supermarkets plus their own store of pantry staples like coconut cream, beans, spices, oils, sugar, and plant-based milks, to turn out 100 meals a week, including a main and dessert. And they're super tasty and nutritious too.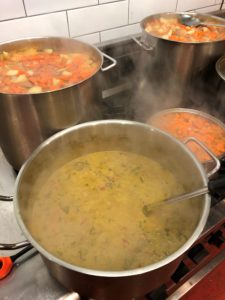 When the Co-op visited on a bitterly cold Katoomba morning the kitchen was filled with the welcoming scent of freshly baked banana bread and vegie curry. "We've always got a mountain of potatoes and bananas which make for filling and healthy meals," says Robyn. "Last week we used our black beans to make a chipotle bean dish served with baked potatoes which went down really well."
Using rescued food has helped stopped food waste and also alleviated shortages caused by panic buying. "When we got a heap of tomatoes we made a huge batch of passata because at the time you couldn't get it in the shops," says Robyn. "We even turned a load of rescued hot cross buns into bread and butter puddings."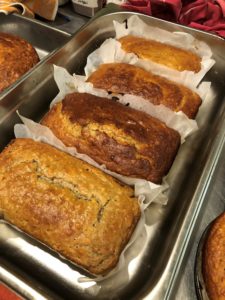 While Corona virus restrictions are set to ease in coming weeks Robyn and crew won't stop cooking for the community anytime soon. "We'd like to be able to get a grant so we can continue to cook for the needy one or two days a week, even when we re-open," she says. "The mountains' community has been hit hard, first by the fires and now COVID-19, I think there will be a need for food relief into the future."
Check out this beautiful film of the work the Salvos are doing in the mountains featuring the wonderful people at Plant-based Wholefoods.
Need help?
If you require urgent assistance and you don't know where to turn call the Salvo Assessment Line on 1300 371 288 (9:00am-5:00pm, Monday- Friday).
You can also visit the Salvos Connect Site in Katoomba on the following days or contact them on 4782 6683.
Katoomba Salvos Connect
Wednesday, 10:00am-12:00pm
Friday, 10:00am-12:00pm