Meet the maker – Jacqui Bushell of Wild Earth Wisdom 
The popular range of herbal creams, salves and moisturisers from Wild Earth Wisdom are finally back.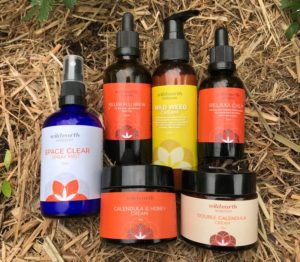 In her own words…
I'm out in the garden,  hunting for the soft greenness of chickweed and the skinny, deeply veined leaves of ribwort. I need a big armload to infuse into nourishing base oils and steep in water to create herbal products and creams.  Gazing out over the yard, I look forward to not restraining the growth in order to give these bountiful, life giving weeds room to flourish even more.
These simple common herbs have such amazing healing gifts. Ribwort (Plantago lanceolata) as well as being soothing, has an antibiotic like constituent, aucubin, which makes it great for minor cuts, scratches and itchy bites, as well as internally useful for easing coughs or as a sore throat gargle.
I am back creating all the Wild Earth Wisdom range of creams and salves. Since the sad passing of Bronwen Maxwell who had taken over my business a few years ago, the stock had no longer been available. With a number of folks contacting either me or the Co-op about wanting to re-purchase their favourite cream, I decided to create time to get cooking once again. I really honour Bronwen's labour of love which continued the original philosophy and practice of organic, natural, handmade products that are luscious, effective and nourishing. I'd especially like to extend kind thanks to to her husband Keith, who has given me permission to pick up the ladle again. It's lovely to be back at the cauldron.
Jacqui Bushell
A bit about the Wild Earth products
All ingredients are natural, organic wherever possible or eco-certified for use in organic products. The base oils are infused with wild-crafted fresh or organic dried herbs, plus concentrated herbal infusions to ensure the creams and salves are medicinally effective, as well as nourishing and soothing. The main plants are golden calendula – herb of sunshine and healer supreme, plus chickweed, ribwort and comfrey for their soothing, anti-inflammatory and anti-itch actions. These are combined with the flower essences I've made over the years, predominately Pink Flannel Flower. This rarest of Blue Mountains flowers allows a gentle loving flow through the heart, inviting in calm peace, trust and balance.
So, what's back on the shelf?
Face or body creams
Nourish Rose Geranium and Lemongrass which has a little cacao butter for added richness either for a night cream or for drier skins.
Rosehip Replenish with Rose and Sandalwood essential oils, a lighter cream for daily use.
Calendula and Honey Cream for face or body, a mid range moisturiser made with sebum balancing jojoba oil.
Herbal Range
Double Calendula Cream may be useful for cuts, scratches, grazes, rashes, eczema, cradle cap. It's soothing, healing and gentle on the skin.
Wild Weed Cream was always super popular as it's anti-itch, soothing and anti-inflammatory. It's great on rashes, eczema, bites, scratches, and some folks love it for psoriasis, often alternating it with the double calendula cream.
All creams can be made scentless as a special order – check in with Alison at the Big Little Shop.
All products are 100% Australian made. No palm oil or sulphate-based ingredients. Definitely not tested on any animals, except for the Calendula and Wild Weed Creams which have been appreciated by many a dog and cat with rashes, scratches and itchy bits.