Your say
Thank you for all the wonderful feedback and suggestions we have received recently via the old, and snazzy new suggestion box, email and social media. We are always looking for ways to improve the Co-op for members and customers. Here are a few Q & A's and comments.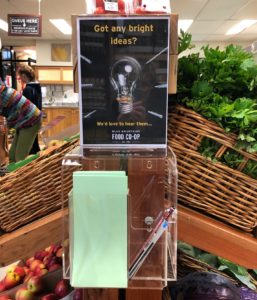 Suggestion box
Apart from requests for more "lollies" and "free chai" we often receive questions and comments like these:
Q: Can we get Australian sugar?
A: Currently, no. We had some Australian organic sugar in stock in March and April but it's not currently available. If we could get a consistent supply it would be our preference.
Q: Can we get Australian walnuts?
A: Yes, but we haven't been able to find a reputable supplier. In the past our Australian supplier sent rancid nuts so we selected the fresher, tastier ones from the United States.
Q: Can you please get medicinal mushrooms?
A: Tick! We now sell Life Cykel medicinal mushroom extracts in the Big Little Shop.
Q: Can you get chickpea and alternative tempeh – not soy?
A: There are a few soy alternate tempehs out there but they are either frozen, and we currently don't have a freezer, or fresh, and have a very short shelf life and logistical issues regarding delivery.
Q: Can I purchase cheese in my reusable container rather than pre-packaged?
A: Unfortunately, it is logistically too difficult to cut cheese to order. Our cheese is packaged in cellophane, not plastic, which is made from renewable cellulose film. It is biodegradable but best suited to industrial compost systems.
Q: Can you please get vegan butter?
A: We have! It's from Nutty Bay.
Q: Can you please put bananas in the kids free fruit box?
A: Tick!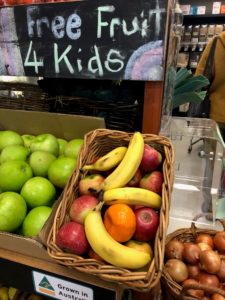 And here's an interesting comment:
"I reckon it's time to put up the price of membership. It's been hovering around $30 ($35 for one year to be exact) for years and surely your overheads have increased."
A: Our overheads have indeed increased and last year we decided it might be time to increase membership fees slightly. We even scheduled it to be implemented in August this year but due to the series of debilitating setbacks our local economy, members, and customers have endured with drought, bushfires and COVID-19 all taking their toll we have decided to put that idea on hold.
Social media
Facebook and Instagram  are great ways to reach out to your tribe and stay up to date with happenings at the Co-op. Here a couple of glowing reviews.
Facebook review from Kay Bee.
"I can't recommend this co-op highly enough. The staff are always friendly and they always have what I need. In recent weeks, they have been especially good taking social distancing very seriously, putting a staff member outside to ensure customers wash their hands before entering, while still being friendly and welcoming to customers. I'm so glad they've been able to continue operating through these restrictions, they are an asset to the community."
Instagram shout out from @sustainablebluemountains
"Discover this must see food destination in Katoomba."
We love receiving your feedback so don't be shy, please drop us a line via hello@bmfoodcoop.org.au, draw us a picture or pop a note in the suggestion box, or comment and tag us on social media posts.
Noticeboard
You may have noticed the new lockable Co-op Noticeboard. We are trying to consolidate all our visual communications in one place so you can keep up to speed with news, events and information.
A new Community Noticeboard will be installed shortly.