Magic mushrooms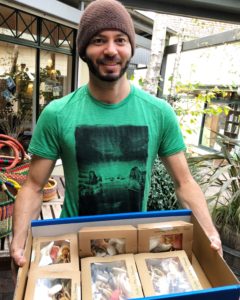 Amateur mycologist, Jahdi El Khouri, supplies the Co-op with a range of gourmet mushrooms that he grows in his Katoomba garage. We caught up with him to find out what's magic about mushrooms.
Q: What's your background and how did you end up growing mushrooms in Katoomba?
Jahdi: I had a certified organic farm up north near Bellingen for six years growing all kinds of fruits, vegetables and mushrooms. After I sold my farm an opportunity came up to move back to the beautiful Blue Mountains where I spent the first 20 years of my life and renovate a house for my brother. I'm a bit obsessed with growing everything really, in particular mushrooms, and I started setting up my operation as soon as I moved in.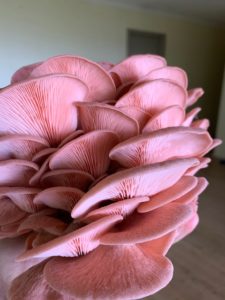 Q: What so fascinating about mushrooms?
Jahdi: Mushrooms are truly amazing to watch grow. There is something quite mysterious and intriguing about them. Animals and fungi branched away from plants about 1.5 billion years ago and animals and fungi separated about 9 million years after that. This makes fungi more closely related to animals and possibly why they produce so many compounds that have astonishing benefits to us. I encourage everyone to do a little research on the medicinal benefits of various mushrooms.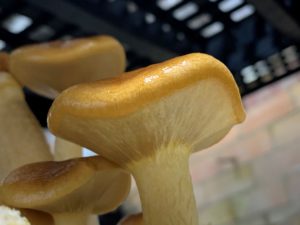 Q: Which varieties do you grow and what are the ideal growing conditions for mushrooms?
Jahdi: I grow a wide variety of gourmet and medicinal mushrooms and they all have their own intricacies that must be provided for to allow them to flourish. I am able to grow mushrooms all year round although some of the varieties change with the seasons. Mushrooms that I grow through the year may include oyster (blue, king, white, tan, shimeji, grey, phoenix, pink and yellow), shiitake, lion's mane, reishi, nameko, chestnut (poplar) and the scaly flaming cap. Some of the mushrooms are tropical and prefer warmer weather, like the yellow and pink oysters, but most tend to do better in the cold and produce better quality mushrooms, albeit at a much slower pace. This makes Katoomba a great place to produce delicious and healthy mushrooms.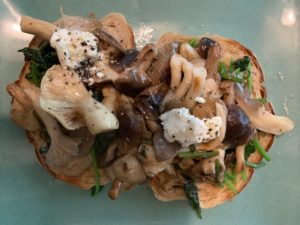 Q: Can you share your favourite mushroom recipe?
Jahdi: It's hard to pick one mushroom recipe as in my kitchen they are in almost every dish I make. I always start the day with mushrooms on toast, fried with garlic, topped with cashew or goats cheese. Mushrooms are great in stir fries, pasta dishes and make a great medicinal broth that can be added to soups and risottos. I even have mushrooms in my coffee when I need some extra brain power. There has been lots of research on the benefits of lion's mane for the brain.  I dry it and make it into powder before adding it to the brew.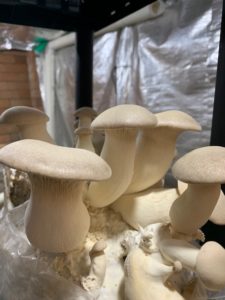 Look out for Jahdi's amazing mushrooms in the Local Produce section.